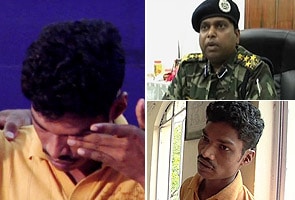 Dantewada, Chhattisgarh:
Police in Dantewada in Chhattisgarh have released photographs of six Maoists who allegedly attacked the house of a local Congress leader Avdesh Gautam and killed his 15-year-old-relative.
"Recently the attack that took place in Nakulhar at the residence of congress leader Avdesh Gautam by the Maoists...in that connection, Dantewada police has succeeded in arresting six Maoists," said Senior Superintendent of Police (SSP) SRP Kalluri.
Police claim a preliminary inquiry has revealed that a person named Lingaram Kadopi was the mastermind of the attack.
"Preliminary inquiry by the police has revealed that Maoist Lingaram Kadopi was the mastermind of the attack. He is a resident of Sameli and received some training in New Delhi. They had executed this attack after planning it for 10-15 days in New Delhi," Kalluri added.
Kadopi however claims he is innocent. He says he was in Delhi when the attack took place.
"I have no association with the Maoists. Police are trying to frame me. Naxalites are after me and the police is also after me," Kadopi said.
Get Breaking news, live coverage, and Latest News from India and around the world on NDTV.com. Catch all the Live TV action on NDTV 24x7 and NDTV India. Like us on Facebook or follow us on Twitter and Instagram for latest news and live news updates.