Highlights
Violence in Manipur against economic blockade imposed by Naga groups
Naga groups blockade since Nov over formation of 7 new districts
No reports of casualties, internet snapped in West Imphal
Imphal:
Violence erupted in Manipur's capital Imphal on Sunday afternoon when protesters angry over the ongoing economic blockade in the state and a series of terrorist attacks on security forces earlier this week, resorted to violence. A curfew has been imposed in Imphal till 4 pm on Monday.
Protesters attacked vehicles coming from the Naga-dominated hill districts towards Imphal. Several vehicles were set on fire and vandalised. One bus was pushed into a river. There have not been reports of any casualties.
Earlier, taking note of the tensions in the capital following three blasts on Friday and an attack on the oldest Baptist church in Manipur on Friday, the state government
decided to shut down internet services in the Imphal West district
.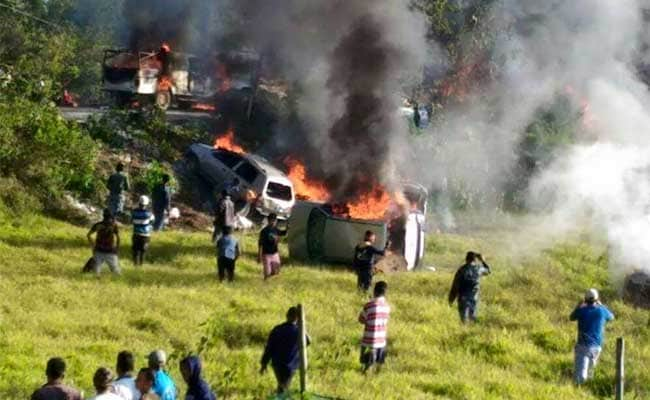 Manipur has been reeling under an economic blockade, imposed by Naga tribal groups since November, which has throttled the supply of essentials, including fuel and medicines to the state, raising prices of daily necessities.
There has also been a spike in incidents of attacks by suspected Naga terror groups like the in the state in recent weeks.
The economic blockade and the terror strikes are seen as a response to the government's decision to carve out seven new districts in the state. The Naga groups allege the new districts encroach on their ancestral land.
A group around 70 suspected Naga terrorists
attacked a police post on Saturday, stealing nine automatic weapons
and leaving two policemen injured.
The attack came on the day of a dawn-to-dusk shutdown called by civil society groups against the economic blockade.