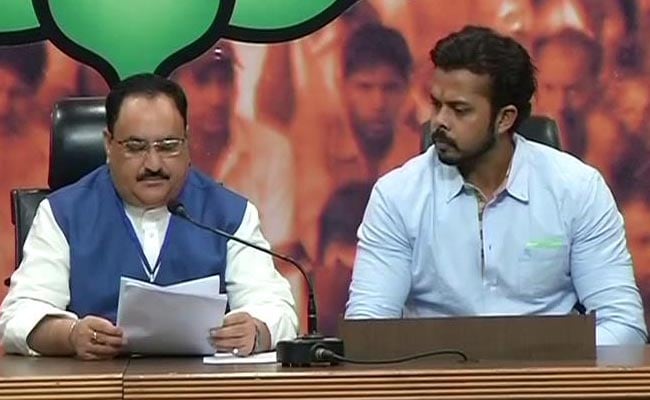 New Delhi:
Cricketer S Sreesanth joined the BJP tonight and will contest the upcoming Kerala Assembly elections from Thiruvananthapuram. The party is eyeing big gains in Kerala this time and it hopes to attract the youth vote across party lines with the cricketer's entry into its fold.
The Central Election Committee or CEC of the party had met late this evening at the BJP headquarters in New Delhi to finalise the list of candidates for Kerala.
"(The) discussion took place in the meeting keeping Kerala's best interest in mind... Sreesanth will be contesting from Thiruvananthapuram seat," Union Health minister JP Nadda said. He said the party was releasing its first list of 51 candidates for the state, which includes the cricketer's name.
"Whenever I thought about joining politics I always thought about doing so with the BJP," the cricketer said minutes after his induction.
BJP leaders in Kerala had said earlier today they were unaware of the move. Mr Sreesanth reached the party office this evening and was inducted into the party during a meeting of the BJP's CEC - the top body for election-related decisions - after which a formal announcement was made.
The BJP is eyeing big gains in Kerala which has so far seen either Congress-led UDF or CPM-led LDF governments. The party does not have a single legislator in the Kerala assembly but made a jump of nearly four per cent in vote share during the 2014 Lok Sabha elections, crossing the 10 per cent mark.
Party president Amit Shah was in Kerala earlier this week, where he asked voters to give the party a chance over the Left and the Congress.