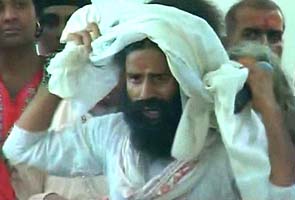 New Delhi:
When the Delhi Police chanced upon Baba Ramdev after a lengthy search, the yoga icon was disguised as a woman.
After his cover was blown, the Baba was led away by the police from Delhi's Ramlila Maidan where he was fronting an enormous public demonstration against corruption.
The Baba was deposited via a special plane near his headquarters in Uttarakhand this morning. He's been banned by the government from returning to Delhi.
His unceremonious removal was accompanied by a lathicharge and teargas shells against the 65000 people that formed protective rings around the Baba to prevent the police from accessing him.
The decision to catapult the Baba out of Delhi and break up his demonstration was taken, sources say, at a meeting last evening. Senior ministers including Kapil Sibal and P Chidambaram decided that the Baba's presence in Delhi was a security concern.
But the main reason for the government's hostility was that the Baba was allegedly backing out of a deal that he had agreed to 24 hours earlier.
At a meeting at Claridge's Hotel in Delhi, he had accepted the government's plan of action for recovering black money-a plan that addressed each point laid down by Baba Ramdev. However, the Baba said he needed to go on a hunger fast for a day to ensure he didn't disappoint the followers who were streaming in from all over India to stand by him.
The Baba was meant to call off his fast at 5 pm. When he didn't, the government decided to serve him with an externment order-basically, remove him from Delhi.
Close to midnight, the police reportedly located the Baba at a tent at his camp and served him with his eviction notice. The Baba asked for some privacy to change. He then disappeared.
The police saw him next on stage, ready to address his waiting audience.
600 policemen were in the camp by then. Some went onto the stage to collect the Baba. He leapt from the stage into the crowd and then rode a security guard's shoulders to continue with his speech.
He later slipped away into a group of women, where he was found later, in disguise.