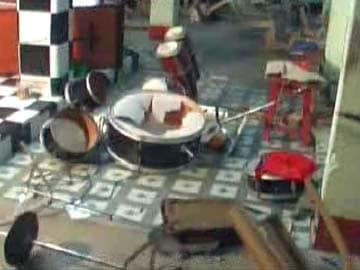 Jehanabad, Bihar:
A Christian prayer hall was ransacked on Sunday in Bihar's Jehanabad District. The attack was allegedly carried out by a mob of 50 people, who interrupted an ongoing prayer service, damaged furniture and allegedly misbehaved with those inside the prayer hall.
The mob had stormed the hall and beat up male members of the congregation during a Bible-reading session. The incident comes of the back of allegations that those leading the prayer were trying to convert poor Hindu families in the area. The families themselves say they have been attending Christian prayer services for years without converting.
Those who were attacked are pointing the finger at right wing activists. "When we were praying, some people shouting slogans of the Bajrang Dal and the Vishwa Hindu Parishad (VHP) entered and straight away started attacking us," claimed Kamlesh Kumar, the pastor who was leading the service.
Police say two people have already been arrested . Another three, who were named in the police complaint by those who were attacked, are still at large.
However, NDTV met one of those named in the complaint, Mantu Kumar, right outside the town police station at Jehanabad. Mr Kumar, who is the in-charge of the VHP's Jehanabad wing, readily acknowledged his Sangh connection, but claimed his cadre did not carry out the attack. "The Hindu society was there. Now, you can call them the Vishwa Hindu Parishad or whatever. But we did not carry out the attack," said Mr Kumar.
The police too say they they need more time to investigate the matter before detaining anyone else. "We are looking at the video footage. We will make more arrests soon. These were anti-social elements. All kinds of slogans are raised," said Jaidev Sharma, Sub Divisional Police Officer at Jehanabad.
The incident at Jehanabad is the second such major event in the last month, related to alleged conversions. In December, allegations of conversions at a village near Gaya led to controversy, and a
ghar wapasi
programme by the VHP.