Rameswaram, Tamil Nadu:
Construction has finally begun for the memorial to former president Dr APJ Abdul Kalam near his home town of Rameswaram. Land has been handed over by the Central Public Works Department to the Defence Research and Development Organisation (DRDO) that Mr Kalam once headed, and a foundation stone has been laid.
A compound wall will first be erected to keep away stray dogs and cattle. Officials say the proposed plan for the fencing has been sent to the Centre for approval.
Dr Kalam, who earned the epithet People's President, had died in Shillong on July 27 and was buried near his home in Rameswaram. The government announced a memorial for him which was delayed. His 99-year old brother APJ Marakaiyar had launched an online signature campaign to push for completion of the memorial for his brother. The campaign, which had gathered a lot of public support, has been put on hold with the Centre and state starting work on the memorial.
Mr Marakaiyar says he is a happy man today. 'I am finally at peace that the construction work has started. . I am going to go see it for myself soon. . .Officials have told (me) they will take care of everything,' he says.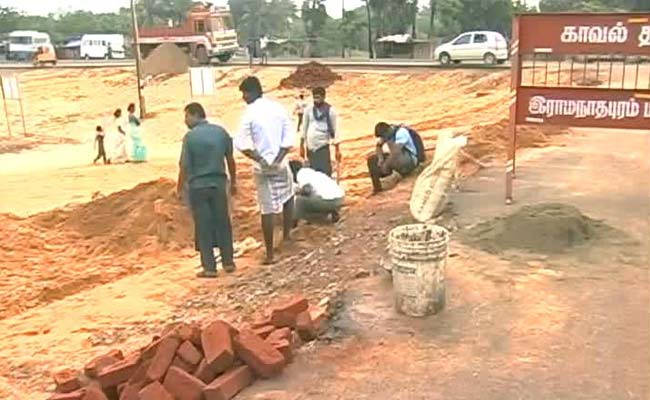 DRDO officials had visited Dr Kalam's house and assured his brother that the family will be informed of every development. Family members say they have been told that the Centre will soon conduct a competition to choose the architect with the best design for the memorial.
'We have requested them to collect bricks and sand from every state because he belongs to India and so this would make it like an Indian memorial. . Also we wish one family member is part of the construction committee and memorial committee," Mr Marakaiyar said.
Family members say the PMO has responded positively to their requests and has promised a world-class memorial at the site. They are hoping a concrete plan will be in place in two months' time.
Get Breaking news, live coverage, and Latest News from India and around the world on NDTV.com. Catch all the Live TV action on NDTV 24x7 and NDTV India. Like us on Facebook or follow us on Twitter and Instagram for latest news and live news updates.