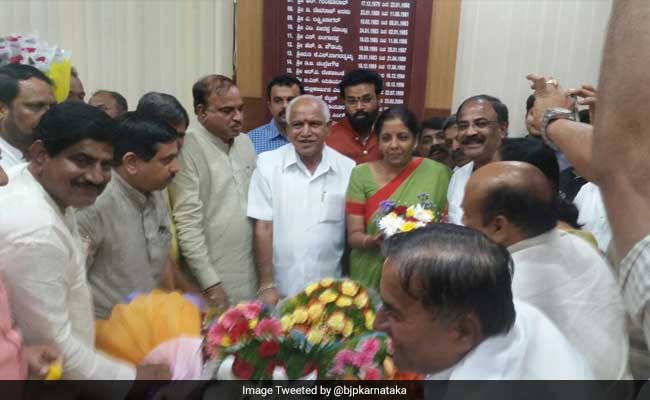 Bengaluru:
The ruling Congress today won three seats and the opposition BJP one seat in the biennial elections to the Rajya Sabha from Karnataka.
The winners are Oscar Fernandes, Jairam Ramesh and KC Ramamurthy (all Congress) and Union Minister for commerce and Industry Nirmala Sitharaman of the BJP.
Janata Dal-Secular (JD-S) candidate BM Farooq failed to get the required votes to win the contest for the third seat, as seven of its 40 lawmakers in the state legislative Assembly 'cross voted' in favour of Mr Ramamurthy, defying the party's whip.
Mr Fernandes and Mr Ramesh got 46 votes each, while Mr Ramamurthy secured 52, and Ms Sitharaman bagged 47.
Mr Farooq had to be contended with just 33 votes.
As the ruling party (Congress) has 123 lawmakers in the 225-member Assembly, election of Mr Fernandes and Mr Ramesh was a fait accompli, while Mr Ramamurthy required at least 14 more votes in addition to the 31 surplus votes as the two former central ministers bagged 46 votes each.
With seven JD-S rebel lawmakers, nine independents and five members from regional outfits voting for Mr Ramamurthy, he secured seven more (52) than the minimum 45 votes required to win the seat.
Though the BJP has 44 lawmakers in the Assembly, Ms Sitharaman secured three more votes from members of the regional outfits BSR-C and KJP.
In the 225-member legislative Assembly, which is the Electoral College for the Rajya Sabha election, the ruling Congress has 123 members, BJP 44, JD-S 40, Independents nine, BSR-C 3, KJP 2, SKP 1, KMP 1, speaker 1 and nominated 1.
Election to the four seats were held as scheduled from 9 am to 4 pm at Vidhana Soudha in the state secretariat in Bengaluru after the Election Commission rejected JD-S plea to postpone or countermand following a sting operation on some independents and its lawmakers by two national news channels on June 2.
The election was held to fill the four vacancies caused by the expiry of the six-year term of four erstwhile members from the state, including Union Urban Development Minister M Venkaiah Naidu, Mr Fernandes, Mr Aayanur Manjunath and tycoon Vijay Mallya, who resigned on May 4 before his term could end on June 30.