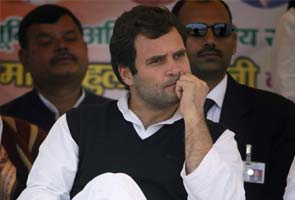 New Delhi:
The Congress today distanced itself from the statement made by senior party leader Digvijaya Singh who said that the Congress will not declare Rahul Gandhi as its prime ministerial candidate in the Lok Sabha elections.
"Individuals may have their personal opinion but on such issues, the final decision is taken by the party only," Congress spokesperson Janardhan Dwivedi told reporters on Saturday.
Mr Dwivedi said that Congress had made its position clear during the Jaipur conclave in January, when Mr Gandhi was named Vice-President, that they will decide on the campaign and leadership issue later on.
"No time frame was announced for this," he said.
Speaking to news agency PTI, Digvijaya Singh had hinted that Congress will not name Rahul Gandhi as its prime ministerial nominee ahead of the 2014 polls.
He also did not say whether Prime Minister Manmohan Singh could be a candidate for the top post once again if the party wins next year's elections.
"We do not have a presidential form of government. Congress party does not declare PM or CM candidates before elections... Even in the Karnataka Assembly elections, we had not declared any CM candidate," Mr Singh said.