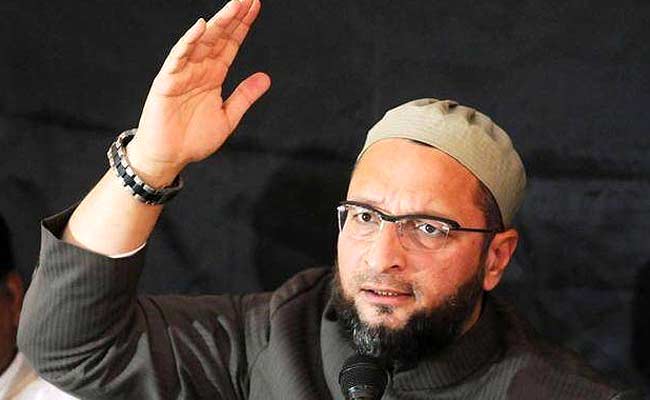 Hyderabad:
Asaduddin Owaisi, the chief of All India Majlis-e-Ittehadul Muslimeen (AIMIM), has alleged that the Congress offered him Rs 25 lakh to cancel their rally ahead of assembly elections in Telangana. The three-time parliamentarian from Hyderabad said he has an audio recording to prove his claim. The Congress has refuted the charge.
While addressing a rally in Nirmal on Monday, Mr Owaisi said, "Majlis (his party) ka jalsa rokne ke liye Rs 25 lakh party fund deta hoon (They offered Rs 25 lakh for party fund if we cancelled our rally). What do you call such a party that is doing such a thing?"
The offer speaks of the party's arrogance and if somebody tries to deny it, we have the proof, he said.
"Owaisi can sacrifice his life, but can't sell his promise. Nobody can buy me," the AIMIM chief said.
Congress leader Meem Afzal trashed Mr Owaisi's claim and said, "They don't have any proof and no proof is needed because it's a lie. When Mr Owaisi speaks on any issue, he always supports the BJP. Why would the Congress try to talk to those who are with the BJP. The Congress has emerged as a strong party in Telangana, which is why he is making these allegations."
Rahul Gandhi has also alleged that Asaduddin Owaisi shares BJP's ideology of hatred and divisiveness. "The BJP, TRS and AIMIM are hand-in-glove," Mr Gandhi said.
The AIMIM is not contesting in Nirmal, but Mr Owaisi was campaigning for the Telangana Rashtra Samithi (TRS). TRS candidate P Indrakaran Reddy will face Congress' Maheswara Reddy in Nirmal next month.
The AIMIM will contest seven seats in Hyderabad old city. Mr Owaisi's younger brother Akbaruddin Owaisi is contesting from Chandrayangutta in Hyderabad. The party had seven lawmakers in the state legislative assembly which was dissolved in September.
The assembly elections in the state were originally scheduled to be held simultaneously with the Lok Sabha elections next year. However, the assembly was dissolved after the recommendation by the TRS government.
Polling in Telangana has been scheduled for December 7 and votes will be counted on December 11. The results of four other states where assembly elections are being held -- Mizoram, Madhya Pradesh, Chhatisgarh and Rajasthan -- will be declared the same day.