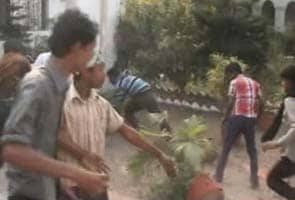 Behrampur:
Congress MP and Minister of State for Railways Adhir Ranjan Choudhury today led a mob of party workers into the house of a senior government officer, ransacking his bungalow in Behrampore in West Bengal's Murshidabad district.
Mr Choudhury later told NDTV, "You are making a mountain out of a molehill. I will not apologise to anyone. If there is anything wrong, the police is free to take action against my workers and me."
Mr Choudhury had made an appointment with the Murshidabad District Magistrate, Rajiv Kumar, to whom he wanted to submit a memorandum of demands from his party. However, when a group of eight to ten Congress workers arrived at Mr Kumar's office at the appointed hour, they were told to submit their memorandum to the Additional District Magistrate instead. Mr Choudhury was addressing a Congress rally nearby demanding a probe into the alleged death of a party supporter, who allegedly died in police custody on January 8. When informed by his party workers, Mr Choudhury issued a 30-minute deadline to Mr Kumar to accept the Congress' memorandum.
As soon as thirty minutes passed, Mr Choudhury called up the District Magistrate, who said he was busy with elections. The Congress MP then jumped down from the stage at the rally and started marching to Mr Kumar's bungalow, which doubles up as his home on the first floor and office on the ground floor.
A huge group of Congress workers followed him into the bungalow and attacked the property with lathis and stones. The glass of a jeep standing in the driveway was also smashed. Mr Choudhury stood up on the jeep and tried to calm down his supporters, but failed.
After 15 minutes of ransacking, a police contingent arrived. However, policemen were outnumbered by the huge mob of Congress workers. Things finally calmed down only after Mr Kumar met the Congress delegation and accepted its memorandum.
Over the years, Murshidabad has been largely dominated by the Congress party, with neither the Trinamool Congress nor the Left able to make its presence felt in the district. Mr Chowdhury has been winning the Lok Sabha seat in Berhampore since 1999.
The Trinamool Congress government in West Bengal has reacted angrily to the incident. Party MP Derek O'Brien tweeted, "The party that delivers pious sermons in Jaipur also indulges in mayhem in Murshidabad # Bengal."