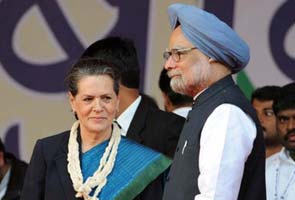 New Delhi:
Strategy for an early rollout of the Food Security Bill in Congress-ruled states will be deliberated today at a meeting of party chief ministers called by Sonia Gandhi.
The meeting is being held at a time when the party is projecting the scheme seeking to provide cheap foodgrains to 82 crore people as a game changer in the 2014 Lok Sabha polls. Delhi, where assembly polls are due by the year-end, will be the first state to roll out the scheme on August 20, the birth anniversary of former Prime Minister Rajiv Gandhi.
As many as 34 party leaders, including chief ministers of 14 Congress-ruled states, All India Congress Committee (AICC) general secretaries and members of Congress Core Group, have been invited for the meeting today.
Prime Minister Manmohan Singh, party Vice President Rahul Gandhi and Food Minister K V Thomas will be present during the deliberations.
The party seeks to ensure that the scheme is implemented in the best possible manner with Congress-ruled states becoming role models in implementation of the food security measure.
The meeting has been called days after the government rushed through an ordinance, an indication that the Congress is keen to pull out all the stops in propagating the food security scheme that will provide right to cheap foodgrains to 82 crore people.
Direct Benefit Transfer (DBT) scheme and the Food Security Act are being considered as major moves by Congress ahead of the 2014 general elections as was the farmers' loan waiver scheme and MNREGA announced in UPA-I.
The loan waiver and MNREGA schemes were credited among other things for return of UPA to power in 2009.
Several states, including Congress-ruled Karnataka and Uttarakhand, BJP-governed Chhattigarh, Samajwadi Party-ruled Uttar Pradesh and JD(U)-run Bihar, could see early roll out of the programme.
Partymen wanted early roll out the scheme so that the scheme is well in place by the time Lok Sabha elections take place.
The bill has been the pet project of Sonia Gandhi.