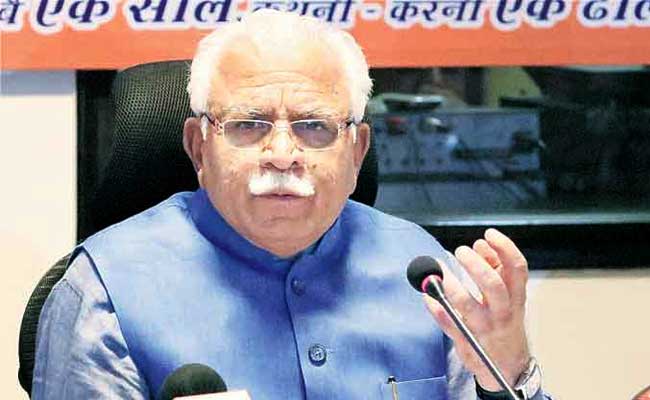 Karnal:
The opposition Congress in Haryana has slammed Chief Minister Manohar Lal Khattar for allegedly refusing a man who had urged him to keep his "promise" and provide him a government job.
Congress leader Randeep Singh Surjewala shared a video of Mr Khattar on his Twitter handle in which the chief minister is seen snubbing the man, a resident of Karnal from where Khattar is an MLA.
On July 22, Mr Khattar was listening to grievances of people at the PWD Rest House in Karnal. There, the man who identified himself as TP Arora, reminded the chief minister of the job promise he had made to him during his visit to his residence two years ago.
In the video, the man is seen reminding Mr Khattar of the "promise", but the chief minister tells him, "Achhe haath paar hai ki nahin tumahare" (you look fit and healthy).
"Kamao, khao, koi sarkari naukri tumhare liye nahin hai (earn your living, there is no government job for you)," Mr Khattar tells him as the man is seen repeatedly pleading with Mr Khattar to keep his promise.
"Tumahare liye koi naukri nahin hai, tum apna kamao (there is no job for you, you earn on your own)," the chief minister tells the man.
According to the video, the man then tries to engage Mr Khattar in an argument.
As the chief minister starts to walk away, the man tells him: "Sir, why did you lie to me then."
The security personnel later pushed the man aside.
After the video became viral on the internet, the opposition Congress criticised Mr Khattar for his apparent lack of empathy.
"Does it behave a chief minister to snub a job-seeking youth in this manner and that too in his own constituency Karnal," Mr Surjewala tweeted.
Mr Khattar, a first-time MLA, represents Karnal assembly constituency in the state assembly.
Mr Surjewala wrote "while the unemployed are raising voice, the BJP leaders are snubbing them."