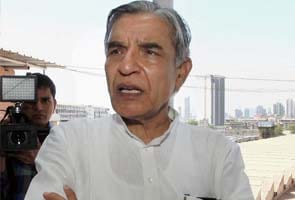 New Delhi:
In a clear indication about the imminent exit of Railway Minister Pawan Kumar Bansal, the Congress today said it "is not going to spare anybody mired in corruption." "The Congress is examining the issue very seriously," party spokesperson Bhaktcharan Das told reporters when asked about the bribery allegations against Mr Bansal. Soon after, Congress chief Sonia Gandhi met Prime Minister Manmohan Singh at his residence, adding to the speculation that Mr Bansal could well be on his way out.
The Congress' top leadership, called the core group, is expected to meet tomorrow to discuss both Mr Bansal's case and that of the other Congress minister caught in controversy, Law Minister
Ashwani Kumar
. Sources say a Cabinet reshuffle might be effected soon to ease Mr Bansal out of the government. Mr Kumar, however, might be shifted to another ministry rather than being dropped altogether, sources add.
When asked about the decision on Mr Kumar, whose actions in the CBI coal investigation provoked a severe and embarrassing reprimand for the government in the Supreme Court, Mr Das said today, "Anyone involved in manipulation can't be tolerated but the final decision is left to the Supreme Court."
Things have unravelled fast for the rail minister since his nephew Vijay Singla was arrested last week for allegedly accepting bribe to organise a plum posting for a senior official, Mahesh Kumar, in the Railways, which his uncle heads.
CBI sources have said that the agency will soon interrogate Mr Bansal to follow up on allegations of his involvement in the case. They allege that Mahesh Kumar, who is also in custody, had met Mr Bansal in Mumbai last month.
(Is the net closing in on Pawan Bansal?)
The minister's name has also allegedly been mentioned in several of over a 1000 phone calls that the CBI has tracked over the last few months in its investigation of the case. The CBI alleges that Mahesh Kumar has said during interrogation that he negotiated the alleged deal for his transfer with Mr Singla at several meetings held at the railway minister's official residence in Delhi.
Mahesh Kumar has also reportedly alleged that Mr Bansal's nephew often used the rooms of his uncle's senior aides at the Railway Ministry office. The CBI has reportedly already questioned Mr Bansal's personal secretary on why Mr Singla was allowed to use government office space.
(Fresh trouble for Pawan Bansal over bank loans to family business)
Mr Bansal had reportedly offered to resign a few days ago, but top Congress leaders had decided to wait until after investigations in the case were over. The new allegations have, however, made it untenable for the minister to continue.
Follow NDTV for latest election news and live coverage of assembly elections 2019 in Maharashtra and Haryana.
Subscribe to our YouTube channel, like us on Facebook or follow us on Twitter and Instagram for latest news and live news updates.