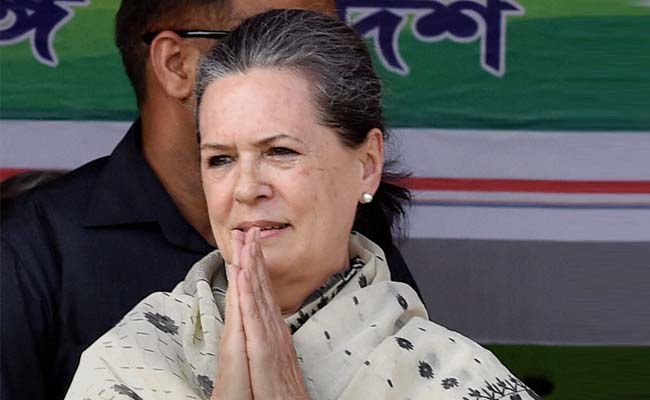 Highlights
Sonia Gandhi is reportedly being treated for a viral fever.
She has missed most of the Parliament session due to the illness
Mrs Gandhi, 69, is the president of the Congress
New Delhi:
Sonia Gandhi, who has not attended most of the current session of parliament, has been hospitalised in Delhi where she is reportedly being treated for a viral fever.
Mrs Gandhi, 69, is the president of the Congress, a post she has held since 1998.
"The Congress President has been admitted to a hospital following viral fever. She will be discharged within two days. She will resume her Parliament duty soon. There is no cause for worry," said spokesperson Randeep S Surjewala.
In August, Mrs Gandhi spent several weeks in hospital after falling sick in the midst of a roadshow in Varanasi, which is the constituency of Prime Minister Narendra Modi. She was flown back to Delhi with a fractured shoulder, the result of a fall during the Varanasi tour.
At a meeting last month, members of the Congress' top decision-making body agreed "unanimously" that Mrs Gandhi's son, 46-year-old Rahul, should be promoted, but did not specify a date. He was made Vice President in 2013.
Mr Gandhi, sometimes criticized as an inconsistent politician, has been a central figure in the opposition's unified attack on the government over its sudden decision to cancel 500 and 1,000-rupee notes earlier this month, a reform aimed at unearthing black money. Though most opposition parties say they agree with the intent, they are objecting to the execution of the new policy, which has configured a huge cash shortage, particularly in rural India.
Mrs Gandhi has in the past travelled abroad for treatment with her party refusing to disclose details of her condition. Her daughter, Priyanka, who usually campaigns for the family in its strongholds of Amethi and Rae Bareilly in Uttar Pradesh, has yet to indicate whether she will play a larger role in the Congress' bid this time around for Uttar Pradesh.