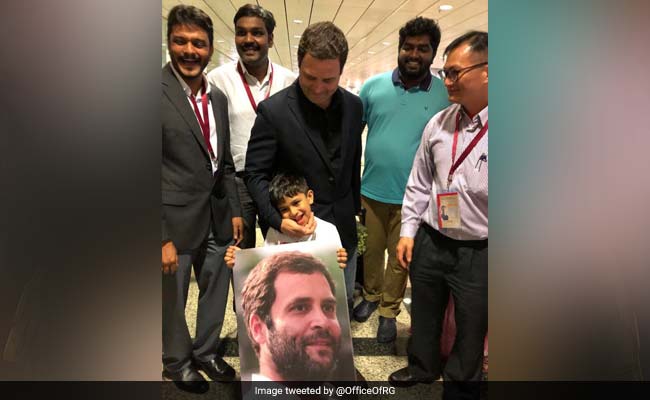 Singapore:
Congress president Rahul Gandhi will address students at the Lee Kuan Yew School of Public Policy, National University of Singapore today. Earlier in the day, Rahul Gandhi met with Indian-origin CEOs of companies in Singapore and discussed jobs, investments and the prevalent economic conditions.
He is on a 3-day visit to Singapore and Malaysia where he will meet the Indian community, business leaders and members of the Indian Overseas Congress.
He is also slated to meet the Prime Minister of Singapore Lee Hsien Loong and the Prime Minister of Malaysia Najib Razak.
Here are the highlights of Rahul Gandhi's address to students in Singapore:
In 2014 when I went to J&K I felt like crying. I saw what a bad political decision can to do years and years of policy-making: Rahul Gandhi in Singapore
We have been fighting the BJP & RSS since the beginning. An extremely nasty form of politics is currently taking root in India. We will fight this nasty form of politics and we will defeat the BJP in the next election: Rahul Gandhi in Singapore
We do not like an India where people are persecuted for what they eat, drink, wear, or think: Rahul Gandhi in Singapore
India's success is hugely because of the Indian people, but anyone who thinks that the Congress Party's policies are not part of that success, needs to write a new book: Rahul Gandhi in Singapore
I am a person who has been taught to love even those who dislike me. I feel no animosity towards anyone who opposes me. This is what makes me different from PM Modi: Congress President Rahul Gandhi in Singapore
Not just in India, but across the world, there are some people trying to win elections by using people's anger: Rahul Gandhi
One mustn't underestimate the energy and power that is released when you take a billion people from a rural economy to an urban one: Rahul Gandhi in Singapore on the Indian economy.
The idea of India envisioned by Mahatma Gandhi was of an India where everyone felt at home regardless of their religion, caste, and language. That idea is now being challenged: Rahul Gandhi in Singapore.
Where we are running into trouble now is in the levels of violence that we are seeing in the country: Rahul Gandhi at Lee Kuan Yew School of Public Policy, Singapore.
"The idea of Swaraj, according to Mahatma Gandhi, implies decentralisation of power until the last person," says Rahul Gandhi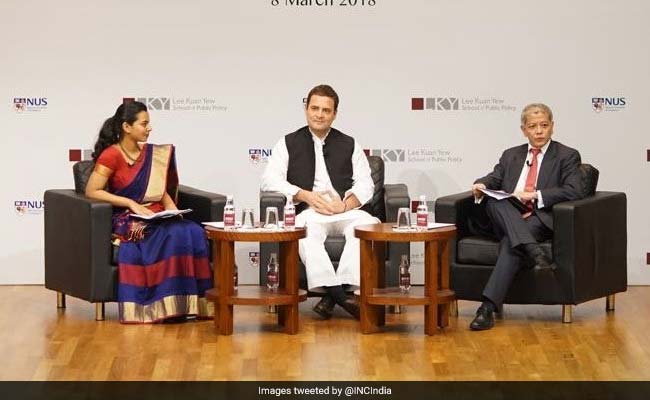 Rahul Gandhi at the Lee Kuan Yew School of Public Policy, Singapore. When asked about the press conference conducted by 4 top judges of the Supreme Court, he says, "People go to the judiciary for justice. For the first time, four judges went to the people for justice."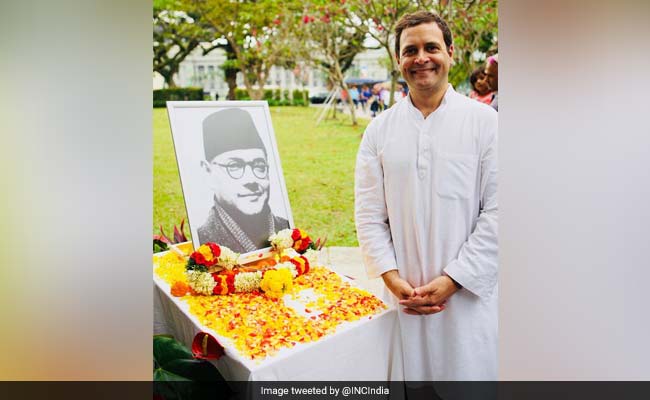 Rahul Gandhi paying tributes to Netaji Subhas Chandra Bose at the Indian National Army memorial in Singapore.