Ahmedabad:
Highlights
Controversy after Gujarat channels air hotel CCTV footage of Hardik Patel
Footage aired amid speculation Mr Patel met Rahul Gandhi at the hotel
Police, intel agencies spying: Congress' Ashok Gehlot on CCTV footage
Amid intense speculation that Congress leader Rahul Gandhi, while campaigning in Gujarat, quietly met Patidar activist Hardik Patel on Monday, a row has erupted over security footage from a luxury hotel flashed by TV channels. Congress leader Ashok Gehlot has accused the Gujarat police and intelligence agencies of spying and taking away CCTV footage from the hotel Ummed in Ahmedabad to track his party's activities ahead of elections expected by December.
In response, Deputy Chief Minister Nitin Patel said that there is a security protocol for a
visitor like Rahul Gandhi
, but the state or its police have no role. "VVIP security is responsibility of security agencies... to ensure sanitised venues, checking by security agencies is done. There is no role of state agencies," Mr Patel told reporters.
Hardik Patel is seen entering the hotel around 11 pm on Sunday and exiting yesterday afternoon in two sets of videos. In one grab, he is inside a car, holding a handkerchief to cover his face.
Rahul Gandhi arrived at the hotel around 1 pm yesterday and left at 2.30 pm for a rally. The footage of Hardik Patel after him, around 4.15 pm, has been seen by many as proof that there was a meeting.
The 24-year-old, who has been stressing that his fight against Gujarat's ruling BJP does not mean he is joining the opposition,
strongly denied meeting Rahul Gandhi
but admitted at a public meeting that he had met Mr Gehlot, the Congress leader in charge of Gujarat, on Sunday night.
"I reached very late, may be 3 am, and met Ashok Gehlot. I presented the demands of the Patidars and the issues we are concerned about," Hardik Patel said, claiming that since it was late, he stayed overnight and left yesterday.
Mr Gehlot alleges that the Gujarat police and intelligence officials took away the hotel CCTV footage on the orders of the BJP, which, he said, was rattled and nervous.
"I condemn all this surveillance being done on BJP's orders," Mr Gehlot said in tweets tagging Prime Minister Narendra Modi and his office.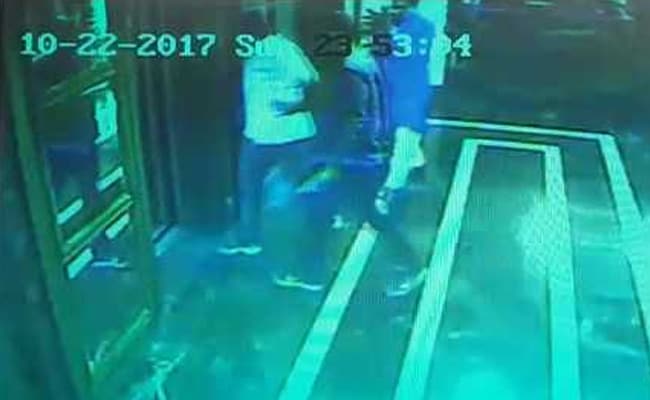 Mr Gehlot said he had met Hardik Patel and Dalit leader Jignesh Mevani and after that, his rooms were checked. "Police are checking hotel rooms. What is happening in Gandhiji's Gujarat?...Are HardikPatel and Jignesh Mevani criminals or absconders? If that is so, BJP must clear its stand. When they met BJP leaders, then their offices were not checked. Why it is being done now?" he tweeted.
Reacting to the charge, Deputy Chief Minister Patel said: "We don't know whether rooms were checked or not but security agencies would have done it as per protocol."
The hotel's officials have been quoted in reports as confirming that the police did ask for CCTV footage, which was handed over.
In poll season, Hardik Patel has
an ardent suitor in the Congress
, which is trying to rally the Patels, Dalits and Other Backward Classes or OBCs, groups seen to be ranged against the BJP.
Political considerations have given the expected Hardik Patel-Rahul Gandhi meeting a cloak-and-dagger twist.
Courting Hardik Patel - who has led a two-year agitation of the influential Patel community for quota - poses a contradiction for the Congress, which welcomed OBC leader Alpesh Thakor yesterday.
Hardik Patel is chary of being disparaged by the BJP as the Congress' B team, which undermines his quota campaign.
At a public meeting in north Gujarat, Hardik Patel's words projected his discomfiture: "If BJP is a mahachor (super-thief), the Congress is a chor (thief). And if a chor's help is needed to trounce a mahachor, we will do that also."