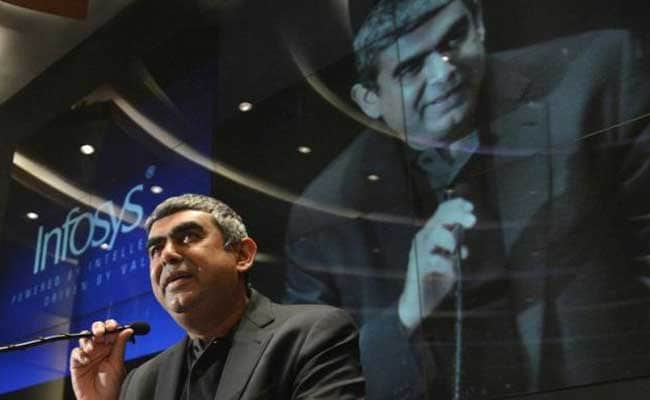 Highlights
Infosys' revenue rose about 25% since Sikka's appointment as CEO
Current chief operating officer Pravin Rao will be interim CEO
Sikka for now will focus on strategic matters as Executive Vice Chairman
Infosys Ltd.'s Vishal Sikka has resigned as chief executive officer, a major loss for a company dealing with heightened acrimony between the board and a cohort of founders led by ex-chairman NR Narayana Murthy.
The 50-year-old executive, who'd helped grow Infosys' revenue about 25 percent since taking the helm three years ago, is leaving Asia's No. 2 software exporter as the industry goes through a difficult transition to internet- and data-based computing. Infosys and its larger rival, Tata Consultancy Services Ltd., also face a U.S. administration that's cracking down on the work visas they need to serve key American clients.
Current chief operating officer Pravin Rao becomes interim CEO, while Sikka will stay on as executive vice chairman till Infosys can find a permanent replacement, targeting March 2018. Infosys' shares fell as much as 9 percent. Before Friday's plunge, the company had gained about 21 percent over Sikka's tenure, outperforming TCS' 4-percent decline.
The resignation of Sikka, who joined from European software giant SAP AG in 2014, caps a year-long battle with a billionaire who accused the company he co-founded of numerous governance lapses. Infosys openly blamed Murthy in a statement for attacking Sikka and the company, including in a recent letter circulated among media outlets that "contains factual inaccuracies, already-disproved rumours, and statements extracted out of context." Murthy wasn't immediately available for comment.
Infosys had previously been battered by allegations of poor corporate governance by Murthy and fellow founders, including criticism of acquisitions and executive pay. His exit marks a blow to the company as it struggles with the evolving needs of customers from Goldman Sachs Group Inc. to Daimler AG. Sikka said on his blog he remained dedicated to the company but decided to throw in the towel rather than grapple with unspecified distractions. Co-Chairman Ravi Venkatesan later told reporters Infosys hoped to put the dispute with its founders "to bed" in coming weeks, while Sikka helps pick his successor.
"After much contemplation I have decided to leave because the distractions, the very public noise around us, have created an untenable atmosphere," Sikka wrote on his blog after the announcement. "Life is too short to engage in battles of opinions in the public, these add no value, take critical time and focus away from the business, and indeed add more to the noise, to the eardrum buzz."
Sikka -- who for now will focus on strategic matters and receive an annual salary of $1 -- is unusual for an Infosys CEO in that he isn't one of the founders and is also based in the U.S., where the company gets nearly two-thirds of its revenue. Sikka's come under fire from Murthy for flying private charters to meet customers and setting up an office in Palo Alto.
"Bickering among the founders and the chief executive officer indicated that the resignation of Mr. Sikka was bound to happen one day or the other, that it happened so soon was a shocker," said Shradha Agrawal, an analyst at Mumbai-based Asian Markets Securities Pvt. "It is too early to comment on the change in recommendation of the stock as we need to watch further steps and appointments by the company."
Infosys has been trying to haul itself out of a growth slowdown through job cuts and investment into news areas such as data analytics, and had only just shown signs of a revival. Sikka's resignation now adds leadership instability to its list of challenges.
"The board understands and acknowledges Dr. Sikka's reasons for resignation, and regrets his decision," Infosys said in a statement. "The board denounces the critics who have amplified and sought to further promote demonstrably false allegations which have harmed employee morale and contributed to the loss of the company's valued CEO."
(Except for the headline, this story has not been edited by NDTV staff and is published from a syndicated feed.)