Mumbai:
Highlights
US President-elect Donald Trump meets 3 Indian real estate developers
Trump's son and daughter also present; he also reportedly praised PM Modi
Trump lends his name to 5 luxury real estate projects in India
US President-elect Donald Trump's meeting with Indian businessmen has fed a controversy in the US over conflict of interest after the billionaire's election and raised concerns over whether he can separate his presidency from his business.
The
New York Times reported
that days after his win, even before he had interacted with many world leaders, Mr Trump met three real estate developers who have built Trump-branded luxury apartments in India - Atul Chordia and Sagar Chordia from Panchil builders in Pune and Kalpesh Mehta, Trump's business representative in India. One of them was quoted by the Times as confirming that in the November 15 meeting, "future business deals" were discussed. Mr Trump reportedly praised Prime Minister Narendra Modi.
Also in the meeting in New York were his son Donald Trump junior and daughter Ivanka Trump, whose presence two days later at Mr Trump's interaction with Japanese Prime Minister Shinzo Abe was also widely commented upon.
After the meeting, Kalpesh Mehta's Tribeca Developers released his pictures with Mr Trump and his daughter.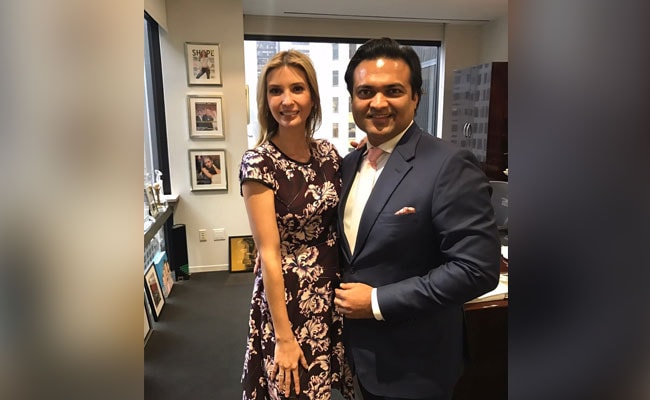 US President-elect Donald Trump's daughter Ivanka Trump with Indian businessman Kalpesh Mehta
Mr Trump has five luxury real estate projects in India - in Pune, Mumbai, Gurgaon and Kolkata. Apartments in Pune's Trump Towers are said to be between Rs 23,000 to Rs 25,000 per square feet. Trump does not invest in these projects but allows developers to use his name for an undisclosed amount.
Trump has been lending its name to projects all around the world and they have done that in India but it's much more than just the name," Mr Mehta had told NDTV prior to the meeting, adding, "They have expressed interest in the past to expand their involvement in India, maybe that involves investing equity."
A Tribeca group spokesperson said: "India probably has the highest number of Trump branded real estate projects outside of North America. Trump has five ongoing deals in India with a gross development value of about $1.5 billion."
Three more projects, said the company, are likely to be launched next year.
Vice President-elect Mike Pence has defended Mr Trump and insisted that by the time he takes over, there would be a 'proper separation' between his business and presidential duties.
Get Breaking news, live coverage, and Latest News from India and around the world on NDTV.com. Catch all the Live TV action on NDTV 24x7 and NDTV India. Like us on Facebook or follow us on Twitter and Instagram for latest news and live news updates.