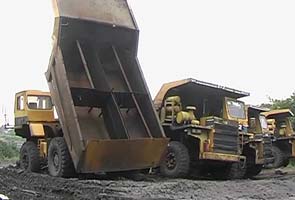 New Delhi:
With just a week left of this Parliament session, the government is keen to end the paralysis caused by the "coal-gate" scandal. The Opposition has said that it will only allow discussion and debate in Parliament if the government agrees to cancel the allocation of 142 coal fields, and allows a judicial inquiry to dissect how those licences were issued.
Last month, a report by the national auditor or the CAG said private firms reaped windfall benefits of upto Rs 1.86 lakh crore because of a poor coal policy implemented by the government, a conclusion aggressively refuted by the Prime Minister and his senior ministers.
In what could help defuse the crisis, or at least pave the way for a compromise with the BJP, nearly 60 coal blocks could be de-allocated soon.
(Read)
An inter-ministerial group, set up in July, is meeting. It has found that 30 blocks given to the private sector and another 28 given to state-run companies deserve to lose their licences for non-performance. The panel has found that these fields are unlikely to produce any coal by March 2013, and should therefore be handed over to the state-run Coal India Limited.
The government denies that a recent intervention by the Prime Minister's Office asking for urgent action against defaulters is aimed at deflecting the accusations of the Opposition. "We issued showcause notices to 58 companies in April...and this was not because of the BJP or because of the CAG," senior minister Kapil Sibal told NDTV.
However, a note prepared by the inter-ministerial group for today's meeting offers a different take. "Cancellation of coal blocks allotted since 1993 (including NDA regime) where no development has taken place will defuse current crisis," it reads.
The Inter-Ministerial Group is studying 90 coal blocks allocated since 1993 by different governments that were in power. The 60 coal blocks that could be de-allocated include seven that were assigned by the earlier NDA government.
Documents accessed by NDTV show that the Prime Minister's Office intervened last month to insist on urgent action against those companies who have failed to take any steps towards making their coal blocks operational. Letters show that after initially being reluctant about punishing firms, the Coal Ministry did a U-turn, possibly after Dr Manmohan Singh's office suggested non-performers should lose their licences. (
Read letter
)