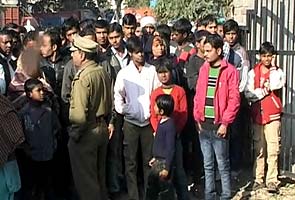 Faridabad:
A young student has been murdered in Faridabad, a satellite town near Delhi. Her family alleges she was raped before being killed near her home. Medical tests will confirm whether she was sexually assaulted.
Police sources say her body showed serious injuries on her neck and stomach which appear to have been caused by a knife.
A 30-year-old man has been arrested. Police says the accused has confessed to killing the teen.
Her family says that she did not return from tuition classes on Thursday afternoon. The police says when it visited her coaching class, friends said the victim was being stalked by an adult man.
Residents of the area protested against the crime, demonstrated in front of the police station and blocked the roads. They also stormed the house of the accused and pelted stones besides setting a motorcycle on fire.
Due to the tension in the area, additional police force was deployed to maintain law and order.
Crimes against women in Delhi - the "rape capital" of the country - have been the centre of national debate since a medical student was gang-raped on a bus last month, provoking widespread anger, shame and protests.
A committee set up by the government to review existing laws for crimes against women indicted "systemic failure" and apathy within the government, the police and the public. The committee has recommended tougher jail terms for voyeurism, stalking and life imprisonment for extreme rape cases.