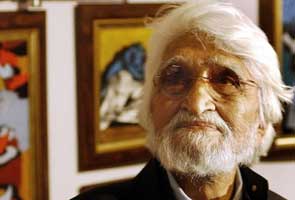 London:
Cutting edge works by famous artist M F Husain will go under the hammer as part of Christie's South Asian Modern and Contemporary Art sale here next month.
"A fitting tribute to the centenary of his birth, the works celebrate the key periods of Husain's oeuvre and show the evolution of his career," the auction house said in a statement.
The sale, part of Indian Art Week at Christie's in London, will include the artist's Ganga Jamuna of 1971 from the private Bhownagary Family Collection, estimated between 400,000 pounds and 600,000 pounds.
Jehangir 'Jean' Bhownagary was the Indian government's film adviser and producer of Mr Husain's award-winning 1967 film Through the Eyes of a Painter.
Another highlight of the upcoming auction is Francis Newton Souza's Rome (1960) acquired from Gallery One, the dealership that first represented the artist in London in the early 1950s, and thus much sought after by serious collectors.
It is estimated at 40,000-60,000 pounds.
The sale will commence with The Garden of Epics: Indian Court Paintings - a curated selection of 45 paintings from a private collection which features rare and important examples of Pahari paintings, together with Rajput and Mughal works.
Other key Indian elements of the sale include an illustration from a celebrated series by Purkhu (estimate: 25,000-35,000 pounds), and an illustration from a dispersed Nakiya series: Abhisarika Nayika (estimate: 20,000-30,000 pounds).
The new 'Arts of India' sale will also feature 19th century jewellery, with a large selection of gem-set and enamelled necklaces, bracelets and pendants, and a wide variety of cabinets and pieces of furniture, from 16th century Indo-Portuguese boxes to Coromandel settees and 19th century Anglo-Indian chests.
Courtly objects as well as arms and armour and fine ivory carvings will illustrate the breadth and wealth of Indian art, spanning centuries of the sub-continent's history.
A rare and complete album (muraqqa) of Mughal paintings (estimate: 40,000-60,000 pounds), and a carved grey schist figure of a seated Buddha which dates back to 2nd-3rd century AD (estimate: 12,000-18,000 pounds) are all among the treasures set to go under the hammer from June 10.