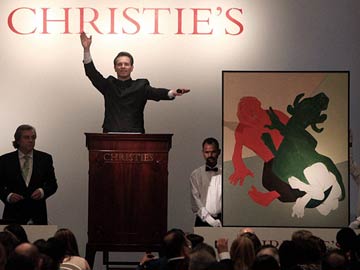 Mumbai:
International auction house Christie's doubled estimates and raised 101.6 crore rupees ($16.3 million) at its first sale in India on Thursday, with its top lot raising 23.69 crore rupees ($3.8 million).
The London-based house, tapping the country's growing band of super-rich, sold 83 lots spanning a century of Indian art in the packed Crystal Room at Mumbai's Taj Mahal Palace hotel.
The top seller was a 1979 golden-hued oil on canvas by Vasudeo A. Gaitonde, described by the auctioneer as the "Mark Rothko of India", which sold to cheers for 23.7 crore rupees ($3.79 million) - a record for a modern Indian work in dollar terms.
"This really is a dream come true and the result was beyond our wildest dreams," said Hugo Weihe, Christie's international director of Asian art, who conducted much of the auction.
The total sale, much of which was sourced from the collection of late gallery owners Kekoo and Khorshed Gandhy, had been estimated to raise $6 to $8 million.
A canvas by Tyeb Mehta of the Hindu goddess Durga battling a buffalo demon was the second highest seller, going for 19.78 crore rupees ($3.17 million).
The auction was part of Christie's strategy to tap into the growing clout of Asian buyers, following its first sale in China in September which raised $25 million.
Weihe had earlier described the sale as a "shot in the arm" for the Indian art market, which has been struggling to return to the heady days enjoyed before a crash five years ago.
Some had questioned the timing of the sale, given the recent sharp slowdown in India's economy and a difficult few years for the art scene since the global economic crisis sent prices tumbling in 2008.
But Christie's, which has had an office in the financial hub Mumbai for two decades, said it was encouraged by the growing prominence of Indian buyers at its international auctions.
"The market is discerning and understanding of quality and this is the proof," Weihe told reporters after Thursday's sale.
Some of the artworks under the hammer have been deemed "national art treasures", such as those by Rabindranath Tagore and Amrita Sher-Gil, meaning they cannot be taken out of the country.
The record for a modern Indian artwork was set by Syed Haider Raza's 1983 painting "Saurashtra", which sold for almost 2.4 million pounds ($3.6 million) at Christie's in London in 2010.
Although the Gaitonde sold on Thursday for a higher price in dollar terms, Christie's said it did not qualify for a new record because its conversion into British currency, at 2.299 million pounds, remained lower than Raza's record.
Get Breaking news, live coverage, and Latest News from India and around the world on NDTV.com. Catch all the Live TV action on NDTV 24x7 and NDTV India. Like us on Facebook or follow us on Twitter and Instagram for latest news and live news updates.