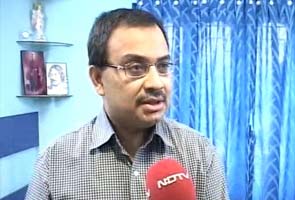 Kolkata:
Trinamool Congress MP Kunal Ghosh, against whom Saradha Group chief Sudipta Sen has made allegations, says he will quit from the Rajya Sabha if his involvement in the chit fund scam is proved.
"I am ready to face and co-operate with any investigation. I am not connected with Saradha's money market activities," Mr Ghosh said in a letter to Trinamool Congress chief Mamata Banerjee. He said he joined the Saradha Group more than a year before joining the Trinamool Congress.
Mr Ghosh was Group CEO of Saradha's media interests and has been accused by the company's chief of exploiting him financially. But the Trinamool Congress MP denies having anything to do with Saradha's chit fund business, which has gone bust leaving thousands of investors in West Bengal bankrupt.
Employees of a Saradha Group TV channel on Thursday filed a police complaint against Mr Ghosh and others in Kolkata. They allege they have not been paid salaries for months and the company did not deposit their contributions to provident fund.
"We have started the investigation. Whatever is needed for the sake of investigation will be done," Joint Commissioner of Police (Crime) Pallab Kanti Ghosh told the Press Trust of India.
Mr Ghosh said he was only responsible for editorial content of the channel. "I am ready to face any investigation. I was not the owner. Finance and accounts were not under me. Attempts are being made to tarnish my image," the Press Trust of India quoted him as saying.