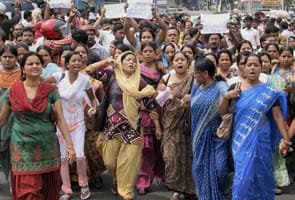 New Delhi:
Market regulator Securities and Exchange Board of India (SEBI) has ordered the Kolkata-based Saradha Realty India to close all its collective schemes and refund the money it collected from investors within three months. It has also barred the Saradha group and its Managing Director
Sudipta Sen
from the securities markets till the company winds up all its chit fund schemes and refunds the entire money to investors.
Investors and fund collection agents of the Saradha group have been protesting for many days now in West Bengal.
Mr Sen
, who was absconding since early April, has been arrested in Kashmir. (
Read: How Sudipta Sen was traced and caught
)
Saradha lured lakhs of investors to deposit money in its schemes with glossy brochures and the promise of abnormally high returns. A perceived closeness to the ruling Trinamool Congress in West Bengal allegedly also helped it get investors and agents on board - Saradha had Trinamool Rajya Sabha MP Kunal Ghosh heading its media division and MP Satabdi Roy was featured in its promotional material. Chief Minister Mamata Banerjee had inaugurated two Saradha offices.
An official estimate says Saradha had mopped up about Rs 1200 crore through its chit funds, but some calculations put that the figure closer to Rs 4000 crore.
An army of fund collection agents worked for Saradha; about 2.5 to 3.5 lakh people, many of who also invested their own money. These agents got a commission ranging from 15 to 40 per cent.
The schemes were simple and attractive. An investor could invest as little as 100 rupees and there was no upper limit. Saradha promised returns unheard of - 15 per cent to 50 per cent.
It also promised land and fancy holidays, always with the assurance that if it failed to deliver, it would give cash.
It was a classic ponzi scheme. With the money it collected, Saradha did not create the assets it promised it would. It merely gave money collected from one depositor to pay off another.
There are no clear answers yet on why the Saradha chit funds collapsed. There is speculation that the inflow of money began to dry up after a crackdown by the SEBI and the Reserve Bank of India. Also, many policies held by depositors were beginning to mature and Saradha simply did not have the cash to pay up.
The marker regulator launched an investigation into Saradha Realty about three years ago after it received a reference from the Director of Economic Offences Investigation Cell of the West Bengal government in April 2010.
SEBI has warned that it will be launching a criminal case for "fraud, cheating, criminal breach of trust and misappropriation of public funds" and initiate the of winding up of the entire company if Saradha does not pay back its investors within three months. (
Read more
)