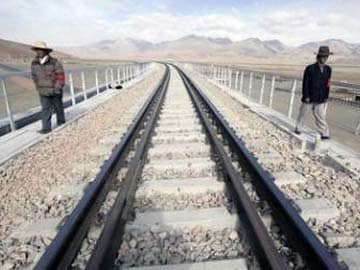 New Delhi/Beijing:
China will pledge to invest billions of dollars in India's rail network during a visit by President Xi Jinping this week, bringing more than diplomatic nicety to the neighbours' first summit since Narendra Modi became prime minister in May.
The leaders of Asia's three biggest economies - China, India and Japan - have crisscrossed the region this month, lobbying for strategic influence, building defence ties, and seeking new business opportunities.
Beijing's bid to ramp up commercial ties in India comes despite a territorial dispute that has flared anew in recent years, raising concerns in New Delhi, where memories of a border war defeat in 1962 run deep.
It follows a pledge by Japan to invest $35 billion in India over the next five years - including the introduction of bullet trains - and a drive to deepen security ties during talks earlier this month between Modi and Prime Minister Shinzo Abe in Tokyo.
India and China are expected to sign a pact that will open the way for Chinese participation in new rail tracks, automated signalling for faster trains and modern stations that India's British-built rail system desperately needs, having barely added 11,000 km of track in the 67 years since independence.
China, which added 14,000 km of track in the five years to 2011, is also pushing for a share of the lucrative high-speed train market in India, which it says would be cheaper than Japanese proposals.
"India has a strong, real desire to increase its cooperation with China and other countries to perfect and develop its rail system, and has concrete cooperation ideas," Assistant Chinese Foreign Minister Liu Jianchao told reporters ahead of Xi's trip.
"India is considering building high-speed railways, and China has a positive attitude towards this."
Beijing is looking to invest another $50 billion in building India's ports, roads and a project to link rivers, part of an infrastructure push that PM Modi has said is his top priority to crank up economic growth. (Read:
Industrial Parks, Bullet Trains: What India Wants from China President
)
Chinese investment will also help narrow a trade deficit with India that hit $31 billion in 2013.
From economic parity in 1980, China's growth has outstripped India's fourfold. Beijing is now seeking to recycle some of its vast export surpluses into foreign investment in resources and infrastructure in South Asia to feed its industrial machine.
DISTRUST
New Delhi's ties with Beijing have long been held back by distrust, mostly over their contested border. India has reported a rise in incursions by Chinese troops in recent years across a military control line, prompting a drive to beef up defences.
India also views Chinese military collaboration with its arch-rival, Pakistan, as a security threat.
Beijing, for its part, is concerned about the activities of Tibetans led by the Dalai Lama who fled to India following a failed uprising in 1959.
Xi kicks off his visit in Ahmedabad, the commercial capital of Modi's home state, Gujarat, on Wednesday when the nationalist Indian leader will be marking his 64th birthday.
Xi is set to launch one of two industrial parks focused on building power equipment in the booming state, which topped India's growth rates when Modi was its chief minister. China will set up another park in the neighbouring state of Maharashtra that will be mainly involved in the autos sector.
The informal setting of the first meeting between Xi and Modi is expected to bring a personal touch, much like the friendly get-together of the new Indian leader and Abe in Kyoto before their formal summit in Tokyo.
"We hope that during this visit the Chinese and Indian relationship of the last 50-60 years would see a directional change," Commerce Minister Nirmala Sitharaman said.
For all that, Modi's bonhomie with Abe and his plans to meet US President Barack Obama later this month point to a carefully balanced approach to relations with big powers.
"Modi is playing his cards very close to his chest, first by visiting Japan ahead of Xi coming to China, and also by planning a US visit later this year," said a Beijing-based diplomat who follows the China-India relationship.
Before he arrives in India, Xi will visit the Maldives, the Indian ocean island which India has long considered its area of influence.
He will also travel to Sri Lanka, where China is building a port less than 200 km from India's southern coast, part of a drive to build ports across the Indian Ocean that some have dubbed a strategic "String of Pearls".
Earlier this month, Abe visited Sri Lanka and Bangladesh.
© Thomson Reuters 2014