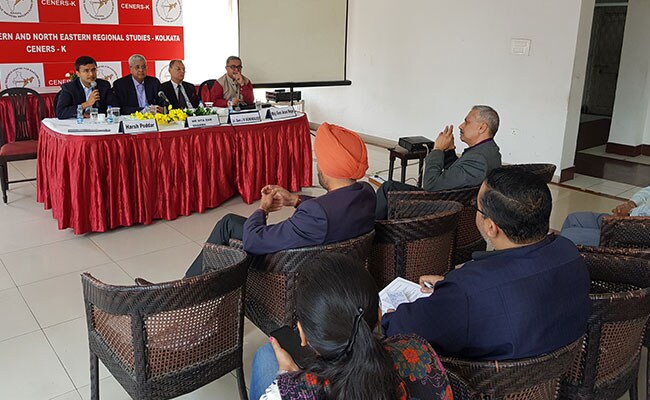 Kolkata:
A two-day high-profile seminar beginning in Kolkata today on China-India relations has had a last minute setback. On Tuesday, the only speaker from China - a professor at Shanghai University - informed organisers he would not be able to attend the seminar because of visa issues.
An invitation letter had been sent to him "in good time" after the hosts informed the External Affairs Ministry and the Home Ministry. What happened after that is not clear on where the bottleneck was: at the Indian end or in China's own system of clearing scholars for travel abroad.
India-China watchers say the development is disappointing. "We should interact with these people and not turn them away," said a security expert. Sources say it is easier for Indian scholars to get visas to China than the other way round. Even tourist visas come with travel bars.
The seminar is being hosted by Kolkata-based think tank Centre for East and North-East Regional Studies-Kolkata or CENERS-K. A brochure distributed for the two-day seminar lists as members former Army chief General Shankar Roy Chowdhury and former Air Chief Marshal Arup Raha.
The keynote address is by MK Narayanan, former National Security Adviser and Director, Intelligence Bureau. Other top speakers include Dr Srikant Kondapalli, professor of Chinese studies at Jawaharlal Nehru University, Ravi Boothalingam of the Institute of Chinese Studies, Delhi, and Amar Sinha, former ambassador to Afghanistan and Secretary, ER, at the External Affairs Ministry. Also, Mohan Guruswamy, political and security analyst, will speak at the event.
Foreign speakers include Hideki Asari from the embassy of Japan in Delhi; Ong Keng Yong, former High Commissioner to India from Singapore, and Craig Hall, US Consul General in Kolkata.
Among the topics to be discussed are "Ebb and Flow in India China Relations", "India, China... Is a new Cold War at play?", "India, China... New Security Imperatives", "Water Wars: The Brahmaputra Issue", "India, China and the South China Sea" and "The Quad - A New Pivot In Indo-Pacific."
The guest from China, Guo Xuetang, who is director of Centre for South Asia and Indian Ocean Studies, Shanghai University, was to chair a discussion on "Can economic engagement overshadow security concerns between India and China?"
Guo Xuetang has been to India before, to Kolkata in 2017 and to Punjab University in April 2012. In July 2017, he joined a dialogue between India Foundation and Fudan University on "India, China Relations In Transition" at Kunming.
India Foundation is an independent research centre based in Delhi. Its directors include union ministers Nirmala Sitharaman, Suresh Prabhu, MJ Akbar, Jayant Sinha and BJP National General Secretary Ram Madhav Varanasi, who is also an RSS functionary.
Among its hands-on directors is Shaurya Doval, son of National Security Adviser Ajit Doval.
Guo Xuetang is a sought-after professor in the international lecture circuit. He is scheduled to be in Karachi on 5 February to attend a conference of Pakistan's National Business Education Accreditation Council.
CENERES-K is a not-for-profit, non-funded think tank registered with NITI Aayog. It recently held a Calcutta Dialogue on Kashmir.
Its two-day event at the ICCR auditorium at Ho Chi Minh Sarani is called "Calcutta International Dialogue: India-China Relations - Resolving Contentious Issues".
Junior minister in the Foreign Ministry, General VK Singh, is listed to deliver an address, but in the last minute informed CENERS-K that he has to travel on work.