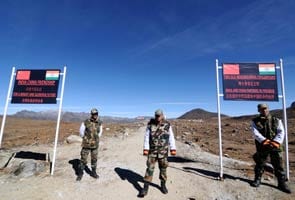 New Delhi:
Chinese troops reportedly intruded into Arunachal Pradesh last week and stayed for a few days, in a repeat of the standoff at Depsang in Ladakh four months ago.
NDTV has learnt that Chinese troops entered eastern Arunachal Pradesh's Chaglagam area and stayed put for three to four days before going back.
The latest incursion has emerged as India sent a strong message to China on Tuesday with a C-130J Super Hercules transport plane landing at an airstrip in Daulat Beg Oldie near the Line of Actual Control (LAC), the site of the April India-China stand-off.
On August 13, locals reported that the Chinese People's Liberation Army (PLA) intruded deep inside Indian Territory in the Anjaw district of Arunachal Pradesh. The Army denies that the Chinese had camped there - like they did in Depsang for 21 days - but on Tuesday, sources admitted that the Chinese had "come and gone," and Indian troops are now present at the spot in strength.
Local residents, however, say currently PLA forces are camping at the Plamplam check post, 60 km from the border, and efforts are on to persuade them to go back.
India has taken up such incursions previously but this time, the foreign ministry has dismissed reports of incursions into Arunachal Pradesh saying, "we don't take up non-events in diplomatic practice."
According to sources, there are six unmanned check posts between Chaglagam and the undemarcated LAC running from Ladakh in the west to Arunachal Pradesh in the east.
The Indo-Tibet Border Police or ITBP is responsible for guarding this stretch of the border, but troops have to travel on foot to get to the LAC as there are no roads on the Indian side.
The Chaglagam area, also known as "fish tail" because of the shape of the LAC in this area, has consistently seen intrusions by the Chinese in the past but they have always gone back immediately.
Army sources said: "The Chinese patrol up to their area of perception as do we. When we come face to face, there is a set routine called banner drill which is followed. Both sides then retreat to their own areas."