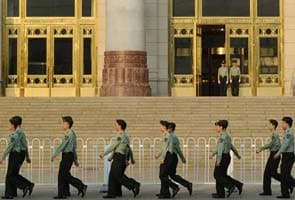 Beijing:
China on Tuesday hiked its defence budget by a whopping 10.7 per cent to $115.7 billion, well above India's current defence spending of $37.4 billion, underlining Beijing's military ambitions amid territorial disputes with neighbours.
The double-digit rise in defence budget for 2013-14 was announced by Premier Wen Jiabao at the Chinese Parliament, the National People's Congress (NPC), which opened its annual session this morning which will also see once-in-a-decade power transfer.
As per the budgetary papers placed at the NPC, a sum of 720.168 billion Yuan was allocated for defence, which at the current exchange rate amounted to $115.7 billion, to make Chinese armed forces more mechanised and information-based.
China spent $106.4 billion on national defence in 2012, an increase of 11.5 per cent than the previous year, making it one of the world's top defence spenders.
Outgoing Premier Wen also presented a lengthy work report on the decade old achievements of his government.
The double-digit hike comes at a time when China is rapidly modernising its armed forces in the backdrop of deepening standoff with Japan over the disputed islands as well as differences with several South East Asian Countries over the South China Sea.
China has already launched its first aircraft carrier last year as well as several versions of new fighter jets including a stealth fighter bracing to deal with big US military push into Asia Pacific.
Many international analysts say China's defence budget is far higher than it actually announces though Beijing asserts that it is the real amount.
Playing down the steady increase in defence budget, NPC spokesperson Fu Ying on Monday said that China's defensive military policies played a "core role" in maintaining peace and stability in Asia.
"China's peaceful foreign policies and its defensive military policies are conducive to security and peace of Asia," Fu said.
The newly elected leader Xi Jinping and his team would formally take over power from old guard headed by President Hu Jintao in the course of next ten days.