Highlights
After Yashwant Sinha's scathing piece on economy, rebuttal by son
Jayant Sinha is union minister, wrote op-ed rejecting father's claims
Easy and cheap to dismiss me as frustrated, bitter: Yashwant Sinha
New Delhi:
Yashwant Sinha, BJP veteran, on Thursday told NDTV that "the easiest and cheapest" response to his hardcore criticism of the government's handling of the economy is to attribute it to the ranting of a frustrated man benched by his party. He also said that if his son, Jayant Sinha, who is a union minister, was asked to write an
opinion piece
defending the government, "It is a cheap trick to turn a son against his father." The 84-year-old said that's what journalists have reported to him. "He is doing his dharma, I am doing mine": the former Finance Minister said about their opposing takes on the economy.
Yesterday,
Yashwant Sinha uncapped his pen
and took apart Finance Minister Arun Jaitley's decisions in an
opinion piece
in which he described the economy as a "mess" that will not resuscitate before the next general election. He told NDTV on Thursday that he does not believe Arun Jaitley should resign, but that the need of the hour is for the government to take stock "within the next 15 days" of stalled projects in which crores are tied up, and "decide which ones to cancel and which should move forward." Critics have said that his assessment deliberately avoids indicting Prime Minister Narendra Modi. He, was, however, clear that "the buck stops with the Finance Minister".
He also said that those who may share his concerns within the BJP are afraid to speak up because they are worried they will not be re-nominated as candidates for the next election, now just two years away. As for himself, he said, he opted out of electoral politics in 2014 by informing then party president Rajnath Singh that he would not run for parliament. So those who claim he is irascible because his political ambitions have been thwarted by an unfriendly PM are wrong, he said.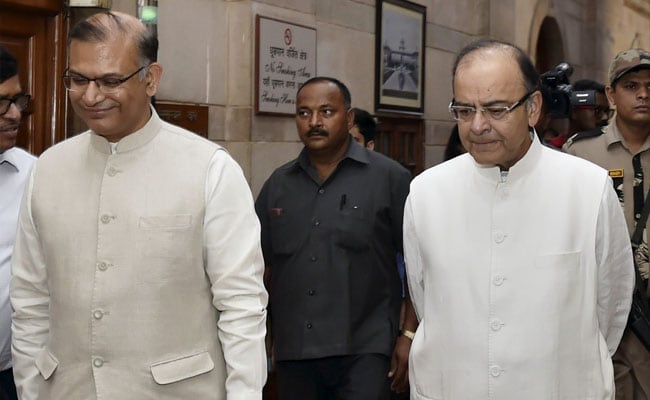 "I am saying this without any bitterness," he said, clarifying that he remains with the BJP - he said he made it a point to renew his membership - and "the party has also not thrown me out yet." He also refused to accept what ministers have claimed - that the last quarter's 5.7% economic growth, the poorest in three years, is a temporary setback. Important reforms have been introduced, he conceded. His son's article refers to them as essential in the creation of a sophisticated, 21st-century economy, but "their sequencing is wrong," Yashwant Sinha said. He cited the introduction of the National Service Tax or GST after the shock of last November's notes-ban as evidence.
"Demonetisation came when the economy was already declining," he said about the PM's sudden banning of high-denomination notes. "It was hardly the right time for massive disruption of the economy. When demonetisation was done, it was well known that government was working on GST...everyone familiar with subject would have known that GST would be another big disruptor of the economy. Sequencing has been wrong, they have come in close succession of each other."
In response to the forecast that both reforms will help make big gains in the future, he said, "Whatever merit there may be in the long term, there is lots of pain and disruption in the short term."