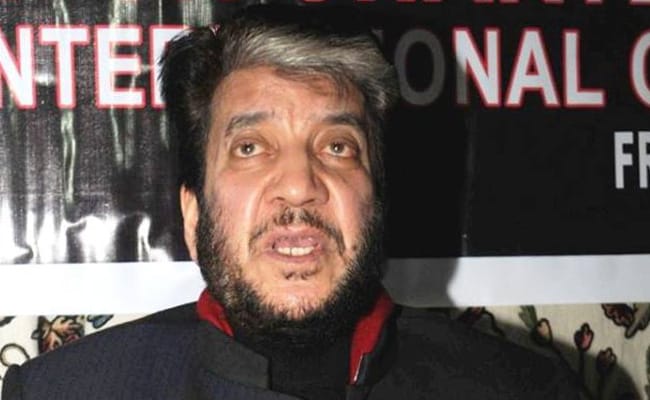 Highlights
Kashmiri separatist Shabir Shah was challenged by a government lawyer
Not a "television studio", said the judge, rebuking the public prosecutor
Shabir Shah was arrested last month in a money laundering case
New Delhi:
A government lawyer challenged Kashmiri separatist Shabir Shah to chant '
Bharat Mata Ki Jai
' to prove his patriotism in court proceedings in the national capital on Thursday but the public prosecutor was promptly rebuked by the judge. The courtroom isn't a "television studio", Judge Sidharth Sharma said, chiding the Enforcement Directorate's lawyer.
Shabir Shah was arrested last month by the Enforcement Directorate in a decade-old money laundering case after a hawala operator arrested by the police alleged that most of the Rs. 63 lakh seized from him was for Shabir Shah.
In its request for extending Shabir Shah's custody, the Enforcement Directorate lawyer Rajeev Awasthi said foreign funds were used by separatists such as 64-year-old Shah to fuel street protests and other terror activities in the Kashmir valley. It alleged Shabir Shah had bought properties worth crores of rupees and the agency wanted to ascertain how he made the money. Shah had been arrested on 25 July but the probe agency said that he had been "totally non-cooperative".
Shabir Shah's lawyer, however, contested the charges, insisting that he was being framed and the agency was compelling him to give various statements during his custody.
As a counter, the overenthusiastic public prosecutor alleged Shah was ruining the country by using money to fund terror and dared the separatist leader to chant '
Bharat Mata ki Jai
' to prove his patriotism.
"Argue on the merits of the case," the judge said sternly, stressing that he wasn't in a television studio.
The agency said it was ascertaining Shabir Shah's role in "anti-national activities" as well as the terror funding through 'hawala' channels "disrupting the peace of Jammu and Kashmir".
The court later accepted the Enforcement Directorate's request and remanded Shabir Shah in their custody for six more days.
(
With inputs from PTI
)