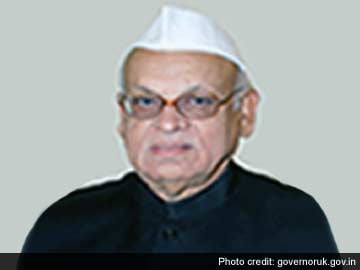 New Delhi:
The government today claimed that it did not attempt to force Uttarakhand Governor Aziz Qureshi from office. Yesterday, the Supreme Court ordered the Centre to explain whether Mr Qureshi had received two phone calls from the Centre asking him to resign.
"There was no move to remove Uttrakhand Governor Aziz Qureshi," said Home Minister Rajnath Singh, adding that a detailed response is being prepared for the next court hearing, scheduled to take place in six weeks.
Mr Qureshi has taken the government to court, alleging that late in July and then again in early August, Home Secretary Anil Goswami rang him twice and presented him with two options - quit or be sacked.
Mr Qureshi, who took office in Uttarakhand in 2012, argues in his court case that only the President of the country can remove a Governor.
Since the BJP government came to power in May, it has sought the resignations of an array of Governors who were selected by the previous government headed by Dr Manmohan Singh.
While some acquiesced, others have resisted. Among them is reportedly Sheila Dikshit, Governor of Kerala.
The Congress and other Opposition parties have pointed out that in 2010, the Supreme Court ruled that Governors cannot be removed just because a new government takes charge. That verdict was based on a petition filed by the BJP, when Governors chosen by it while it was in power in the early 2000s were removed by Dr Manmohan Singh's UPA coalition when it came to power in 2004.
Earlier this month, the NDA government sacked Mizoram Governor Kamla Beniwal, who had served in Gujarat earlier and had a running battle with Narendra Modi when he was the state's Chief Minister. Virendra Kataria, a former Congress leader, was also sacked as Puducherry Lt Governor last month.