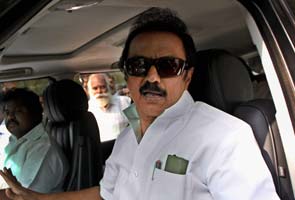 Chennai:
MK Stalin, the politician who allegedly forged the split between the DMK and the Congress, was wakened at 7 am by a CBI team that started searching his house in Chennai.
The investigators said they were looking for a Rs 1.5-crore SUV, a Hummer, bought by the politician's son more than five years ago, allegedly without paying the required import duty.
Mr Stalin, however, said the searches were retribution for his party's decision to quit the government earlier this week, accusing the government of diluting a U.N. resolution asking Sri Lanka to investigate alleged war crimes at the end of its civil war with separatist Tamil Tigers.
"See for yourself, this happens just a day after we walked out of UPA. This is an attempt to threaten us. I will face it legally," said an angry Mr Stalin, who allegedly pressured his father and DMK chief, M Karunanidhi, to exit the UPA.
The Prime Minister expressed his disapproval with the searches. "We are all upset at these events. The government had no role in this, that I am sure of. We will find out the details." Finance Minister P Chidambaram said, ""I have to say that I strongly disapprove of the CBI's action today."
In a statement later in the day, the CBI said its intent was not to target "any particular individual" and that it had raided 18 different locations and seized 17 imported cars.
The timing of the raids, however, seem suspicious. The case to find a total of 33 imported cars and recover duty worth 20 crores was filed by the CBI just a day after the DMK dropped out of the government. The details, however, had allegedly been shared with the CBI last month by the Directorate of Revenue Intelligence last month, a department controlled by the Union Ministry of Finance.