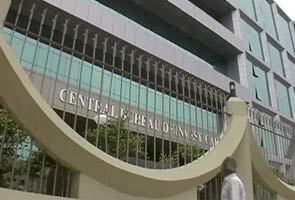 The Central Bureau of Investigation wants its Director to have a rank equal to a Secretary to the Government of India, be given more financial autonomy and be appointed for a three-year term and not for two years.
And it wants complete independence when investigating a case.
In a 14-page affidavit filed in the Supreme Court today, listing its comments on the centre's proposal on measures to free the CBI from political control, the investigating agency has also opposed the suggestion that an accountability committee should look into complaints against CBI officers.
The agency has told the court that this will lead to indiscipline.
The Centre had submitted its 44-page proposal on giving the CBI more functional autonomy last week in the Supreme Court, which had observed that Parliament would have to debate the suggestions and approve them to change the law.
But it had questioned why the CBI should need the government's sanction to prosecute officials and public servants, saying, "The supervision of the CBI is entrusted with the CVC. The Centre has no role. How can the CBI say government permission is needed for sanction? We need to discuss this." (
Read: Parliament will decide on CBI's autonomy, says Supreme Court
)
It had also questioned the CBI being denied the right to hire its own lawyers, which would have given it greater autonomy in politically-sensitive investigations.
The Centre's suggestion that the Director of the CBI will be selected by a three-member panel comprising the Prime Minister, Leader of Opposition and the Chief Justice of India had found favour with the court. The CBI too has agreed with that, but suggests that the views of the outgoing Director too be considered.
In May this year, the Supreme Court ordered the Centre to suggest ways the CBI could be made autonomous, accusing the government of turning the agency into "a caged parrot speaking in its master's voice". It was furious that a status report on investigations into coal block allocations, which the CBI was meant to share with only the court, was vetted by then Law Minister
Ashwani Kumar
and two government officials.
The Supreme Court is monitoring the CBI's coal inquiry, which is especially sensitive for the government because for some of the years under scrutiny, the Prime Minister held direct charge of the Coal Ministry.