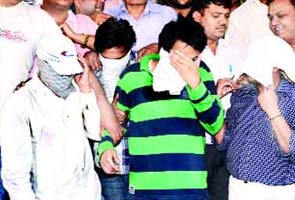 New Delhi:
With more and more 'fake' pilot cases being unearthed every day air travel is fast ceasing to be a joyride. Now, after facing flak on the issue from all quarters, aviation regulator Directorate General of Civil Aviation (DGCA) has decided to put its examination wing under CCTV surveillance.
DGCA has a special examination wing called Central Examination Organisation (CEO) which conducts all the tests of the aviation regulator from pilots, to cabin crew, navigation officers and medical examinations. The department is headed by an officer of deputy director general level.
"We have decided to put the entire examination wing under CCTV surveillance. From printing to paper-checking rooms and examination hall, we will have cameras everywhere. Initially eight cameras are being installed. The number may be increased later on," said a top CEO official, who wished to remain anonymous.
"It should be appreciated. It's a welcome step to improve transparency," Former Director General, DGCA, Kanu Gohain told MiD DAY. Sources said, even the visitors area will be put under surveillance so that who is meeting whom can also be monitored. Though junior level examinations are conducted all across India, the senior level tests like type ratings of aircraft, Airline Transport Pilot Licence test and senior navigation officers' examination are conducted at the centre in RK Puram.
JB Kadiyan, a cabin crew union leader said: "Anything which brings transparency in the system is welcome. It is a step in the right direction and should have been done long ago."
"It is a good step. Why should everybody in the industry get a bad name because of the wrongdoings of a handful of people? Government should explore all the loopholes in the system and develop a mechanism to stop this malpractice," said an Indian Commercial Pilot Association member.
In the past few months, apart from pilots who have resorted to submitting fudged mark sheets procured from flying schools, the role of DGCA officials too has come under the scanner. A few days ago, Delhi Police's Crime Branch arrested three staffers of DGCA for allegedly helping people obtain pilot licences using forged documents. Two of them - Mahan Jyoti Bhattacharya and Mohammed K Ansari - were arrested following the questioning of two pilots, Abhishek Kaushik and Hiren Nagar. The two had claimed that these DGCA staffers had taken lakhs of rupees to provide them licences.
Bhattacharya is an upper division clerk and a former state-level cricketer while Ansari is a draftsman posted in the finance section of DGCA. They have reportedly made close to one crore rupees in the scam. Sources said that the role of DGCA office was also being questioned as in the three cases the documents were found to be stolen from there. The regulator has made an official complaint about this to Delhi police. MiD DAY had earlier pointed out that Delhi police refused to act against a pilot as DGCA could not produce his alleged fake documents which have allegedly gone missing. DGCA chief, EK Bharat Bhushan could not be reached for comments.
The Examination Wing conducts written tests for Pilots, Flight Engineers and Flight Dispatchers. It receives the applications and is also responsible for scrutiny of applications, issuing admit cards, preparation of questions papers with utmost secrecy, dispatch of question papers, receipt of question and answer papers after completion of examinations, its evaluation and declaration of results etc.
Aviation regulator DGCA has so far lodged a total of 13 FIRs against as many pilots for obtaining licences on the basis of fudged documents. Till date, 13 persons, including five pilots and three DGCA staffers, have been arrested on charges of using forged mark sheets, fudged flying hours and related documents to procure flying licences from the Directorate General of Civil Aviation (DGCA). The DGCA had ordered a thorough scrutiny of the documents of all the 4,500 Airline Transport Pilot License (ATPL) holders following a probe of documents of an IndiGo pilot, Capt Parminder Kaur Gulati, who landed an Airbus 320 aircraft at Goa airport on the nosewheel, thus damaging it. She was arrested on forgery charges and later released on bail. The regulator is now verifying the papers of over 6,300 co-pilots registered with it and hopes to complete the process at the earliest.
Allaying apprehensions that a 'huge number' of fake pilots were flying planes in the country, Civil Aviation Ministry on Wednesday said such reports were "far from the truth" and there was no need to panic as only 13 such cases have been detected so far after a thorough scrutiny.
"In respect of airline transport pilot licenses (ATPL), almost all licences have already been examined and found to be genuine, except in respect of the six (cases of forgery) detected," an official statement said, maintaining that 13 FIRs have so far been lodged after scrutiny of licenses. "The DGCA has commenced examination of all Commercial Pilot Licence (CPL) records issued during the past and till date seven cases of submission of forged result cards have been detected. FIRs have been lodged with Crime Branch of Delhi Police in respect of all 13 cases (6 ATPLs and 7 CPLs)."
While there are about 4,000 ATPLs, about 10,000 CPLs have been issued till date. "These facts are made known to the public in order to ensure that there is no panic as a result of media reports hinting at huge numbers of fake pilots flying civilian aircraft in the country. This is far from the truth," the statement said. On complaints regarding certain flying schools, it said three special audit teams, comprising officers of the Directorate General of Civil Aviation (DGCA) and outside experts, would "conduct detailed audit of these schools to detect malpractices, if any". Procedures to cross-verify documents has been introduced to ensure that the Directorate of Examination and the Directorate of Licencing of DGCA "work in close collaboration", it said, adding that steps have been taken to make the examination system foolproof by having "multi layer security" and computerisation. It also spoke about "strongest possible action" having been initiated against those who have resorted to unfair methods. The official statement came amid a spate of reports relating to aviation safety issues, like arrest of 13 persons including three DGCA staffers, forged documents being used to obtain pilots licenses, some flying schools allegedly fudging flying hours and instances of "blind landings".
Other measures being adopted by DGCA:
Three teams have been set up by the regulator which would also span out across the country in a few days to carry out full-fledged audits of 40 flying schools.
These teams, comprising DGCA officers and outside experts, would verify the flying hours logged by various pilot trainees with the log books of air traffic controllers.
They would also check the aviation fuel consumption by the flying schools and their fuel bills to see if they match the flying hours clocked by their students.
Apart from this, a complete revamp of the process of issuing licences to pilots to tackle the problem of fudging of documents to obtain licences is being initiated.
The examination system is being made online and in the case of foreign pilots who get flying training abroad, the DGCA would approach the local aviation regulator and flying school for the authenticity of the documents.