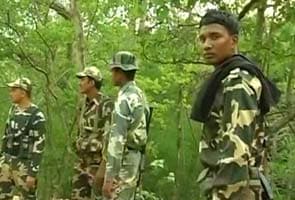 New Delhi:
A day after his Cabinet colleague and Rural Affairs Minister Jairam Ramesh called Naxals 'terrorists', Tribal Affairs Minister KC Deo has said labeling them so will not help address the Maoist issue.
"Calling them terrorists... is it going to help or improve the situation? You can use different terms but ultimately you have to get at the root of the problem... we have to preempt such happenings in the future and also take the path of development and empower the people," Mr Deo told NDTV.
After the brutal massacre of 24 Congress leaders and party workers by Naxals in Chhattisgarh last Saturday, Rural Development Minister Jairam Ramesh had said that Maoists are terrorists as they instill terror and fear in people, the first time a senior Union minister publicly used that term to describe them.
"The Maoists extort money from government contracts. You must treat them not as ideological Don Quixotes, but as extortionists. Anybody who spreads terror is a terrorist," Mr Ramesh had told NDTV.
Mr Ramesh also said that the Maoists see political engagement and development as a threat, and they thrive on isolation and infrastructure deficits.
The differences of opinion expressed by the two ministers, some political observers say, reflect the divisions in government over its strategy to address the Maoist threat - whether to take a hard stance or negotiate with the rebels.
On Saturday, around 250 Naxals attacked a convoy of 25-odd cars carrying Chhattisgarh's top Congress leaders when they were returning from a rally in Jagdalpur. Twenty four people, including state Congress chief Nand Kumar Patel and another party leader Mahendra Karma, were killed.