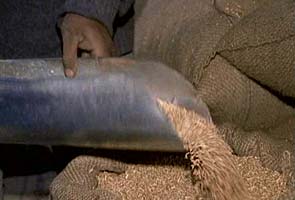 New Delhi:
The Union Cabinet, headed by Prime Minister Manmohan Singh, today approved the National Food Security Bill which aims to give the right to food to around 67 per cent of India's 120-crore population.
"The cabinet has approved the bill. We will try to bring it in the Lok Sabha this week," Food Minister KV Thomas said after the cabinet meeting.
The bill says about 800 crore people will be entitled to five kilos of subsidised grain per month. Rice will be made available at Rs. 3 a kilo; wheat will cost Rs. 2 a kilo and cereal will be sold for Rs. 1 per kilo.
According to this year's budget, Rs 90, 000 crore will be allocated for spending on food subsidies. Finance Minister P Chidambaram in his speech announcing the budget on February 28 had said that government would set aside an extra Rs 10, 000 crore for the bill.
A centrepiece of the ruling government's campaign in 2009, the bill was cleared in January by a parliamentary committee.
The government would like to be able to seek re-election in 2014 by highlighting that it has delivered on a major promise made by Congress president Sonia Gandhi and other leaders of her party during their campaign in the last general election.
The scheme will be linked to the Aadhar scheme which provides every citizen with a unique identification number that's linked to a database that includes the biometrics of all card-holders.
In earlier versions, the Food Security Bill assigned subsidised grains on the basis of "priority" and "general" groups, which were demarcated on the basis of poverty levels.
Get Breaking news, live coverage, and Latest News from India and around the world on NDTV.com. Catch all the Live TV action on NDTV 24x7 and NDTV India. Like us on Facebook or follow us on Twitter and Instagram for latest news and live news updates.