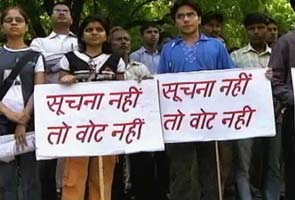 New Delhi:
The Cabinet today cleared crucial changes to the Right to Information Act to block political parties from being covered under RTI.These amendments would exempt parties from being obliged to share details of their funding or how they choose their candidates.
Petroleum Minister Veerappa Moily was the only minister who reportedly voiced his dissent against the move, but Parliamentary Affairs Minister Kamal Nath said the government is doing this because majority of the political parties want these amendments.
In June, the Central Information Commission or CIC, which ensures the RTI Act is implemented and public queries are answered by government departments, ruled that the six major national parties including the Congress and BJP are public authorities and must respond to RTI applications. The parties were given six weeks to appoint officers to handle RTI requests.
The flagship RTI Act was introduced by the Congress in 2005 for increasing transparency.
Activists Subhash Agrawal and Anil Bairwal had said the six national parties get indirect but substantial funding from the central government, an argument that was accepted by the Central Information Commission.
"Large tracts of land in prime areas of Delhi have been placed at the disposal of the political parties in question at exceptionally low rates. Besides, huge government accommodations have been placed at the disposal of political parties at hugely cheap rates thereby bestowing financial benefits on them," it said.
The Commission also said political parties "affect the lives of the citizens, directly or indirectly in every conceivable way and are continuously engaged in performing public duty. It is, therefore, important that they become accountable to public."
However, parties had argued that they are monitored and accountable for funding and other issues to the Election Commission.