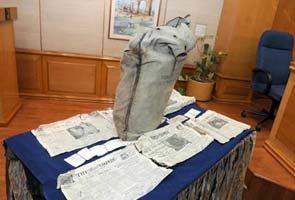 New Delhi:
Creased but readable newspapers with headlines like 'Exchange of captured air crew today' (between India and Pakistan) and government calendars are the contents of a jute "diplomatic bag" found buried for 46-years in Mont Blanc in the French Alps.
The jute bag, weighing about 9kg and stamped "On India Government Service", "Diplomatic Mail" and "Ministry of External Affairs", was recovered by a mountain rescue worker on August 21 on Mont Blanc close to where an Air India plane flying from Mumbai to New York had crashed in January 1966 killing all 117 on board, including top Indian nuclear scientist Homi J Bhabha.
Satwant Khanalia, an official with India's Embassy in Paris, took possession of the bag from the authorities at Chamonix town in the mountain base on September 4 and its
contents were finally revealed on Tuesday to the media in New Delhi.
Tucked inside the 'Type C' diplomatic bags were the papers of
Hindustan Times
and
The Statesman
dated January 22 and January 17 respectively of the year 1966.
Along it were calendars of 1966 and a personal letter of C J K Menon (the then Indian Consulate General posted in New York). Interestingly, the plane crash took place on January 24, which means that the mission staff in Vienna, where the bag was destined to, were still waiting for their official calendars.
Get Breaking news, live coverage, and Latest News from India and around the world on NDTV.com. Catch all the Live TV action on NDTV 24x7 and NDTV India. Like us on Facebook or follow us on Twitter and Instagram for latest news and live news updates.