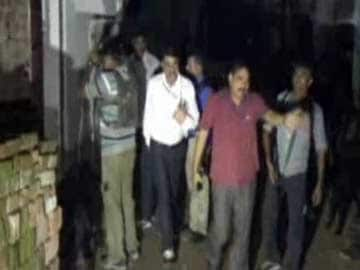 Burdwan:
The Central investigators probing the October 2 blast in West Bengal's Burdwan, found at least 30 hand grenades in the toilet of a house near the site - one that was searched and sealed by the state police eight days ago.
The Bengal police had raided the house - on Badshahi Road - on October 8 after questioning the two women arrested from the house in Khagragarh, where the blast took place.
The house was vacant at the time of the raid - half-a-dozen men living there who claimed to be masons, had decamped. Among those absconding is one Rezaul, suspected to be a key Jihadi element.
But today, the sniffer dogs of the National Investigation Agency (NIA) and the National Security Guards (NSG) found the bombs - bolstering the Opposition claims that the state police are hiding evidence at the behest of the ruling Trinamool Congress.
The BJP's Siddharth Nath Singh, in fact, had 10 questions for the Mamata Banerjee government, including one regarding the "conspiracy" that "forced her government to allow evidence at Burdwan to be destroyed."
The Trinamool snapped back, asking what Mr Singh's locus standi was anyway. Ms Banerjee was in Jhargram, where she did not refer to the Burdwan blast except to call for communal harmony. "We should all live in peace but there are some mischievous people who don't want that," she said.
Earlier today, the NIA-NSG teams combed a madrasa at Simulia with bomb detectors. They also detained two relatives of the absconding principal Yusuf Sheikh.
During its probe that began on Sunday, the NIA had found material suggesting the madrasa may have been used as a hub by jihadi elements linked to the Burdwan blast. Air gun pellets, sharp-edged weapons, money receipts and jihadi literature - including a Bengali book titled, "How To Die A Good Death" - were found, said sources.