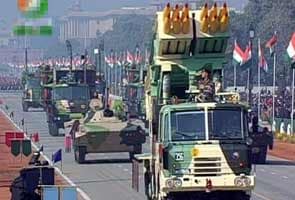 New Delhi:
India has increased its budget for the armed forces by five percent. Sanctioning a little over Rs. 200,000 crore for this fiscal year, Finance Minister P Chidambaram promised Parliament that "constraints will not come in the way of providing any additional requirement for the security of the nation."
In his budget presented today to Parliament, the minister earmarked about Rs. 86,000 crore as "capital expenditure" - meaning spending on hardware - and another Rs. 116,000 crore for revenue expenditure which is spent on salaries, pensions, and maintenance of current equipment.
For the last several years, the defence budget has increased by about 10% every year. But the government's cutbacks have extended to the military - so in the last year, it was asked to make do with Rs. 14,000 crore less than what had been sanctioned.
Over the next 12 months, the Air Force gets the lion's share of the budget for new weapons, followed by the Army and then the Navy.
India is on the brink of buying 126 French Rafale fighter jets for an estimated Rs. 90,000 crore and is shopping for some 400 combat helicopters worth thousands of crores.
The increase in the crucial Capital expenditure - meant for fresh acquisition of weapon systems and equipment - amounts to about 24% on paper, but when adjusted for inflation of 7%, an official said, the hike is about 14%. "And if that's further adjusted for fluctuation of the rupee value, the net increase comes to about only 4 to 5 per cent," a senior Defence Ministry official told NDTV. Adjusting for the fluctuation of the rupee is important since India imports all its weapon systems from abroad.
Defence Minister A K Antony said, "Taking into account the difficult economic situation both at home and abroad, the Finance Minister...has been fair to the Defence Sector also by increasing the budget."