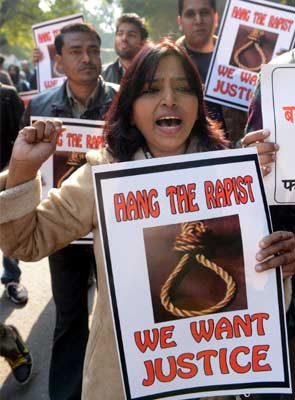 New Delhi:
The 23-year-old student whose fatal gang-rape on a moving bus in Delhi stirred national outrage and grief has inspired the government to create a special Rs. 1000-crore "Nirbhaya Fund," largely dedicated to improving women's safety, the Finance Minister said in Parliament today.
The student's identity is being protected for legal reasons, she has been referred to as "Nirbhaya" meaning "fearless" in sections of the media.
While presenting the government's budget for this fiscal year, Mr Chidambaram said, "We have a collective responsibility to ensure the dignity and safety of women. Recent incidents have cast a long, dark shadow on our liberal and progressive credentials. As more women enter public spaces - for education or work or access to services or leisure - there are more reports of violence against them."
The new fund, he said, will be used to empower and protect women.
The student's father told NDTV that he welcomes the government's decision. "This is honouring our daughter, since this is in her memory," he said, adding that the fund should be used to assist women not just in Delhi but across the country.
In December, his daughter and her male friend boarded a bus in South Delhi on a Sunday night. A gang of men on the bus attacked them with an iron rod, took turns raping her, and then threw the couple onto the road. The student died two weeks later.
The assault provoked large and near-daily rallies in many cities, with students taking the lead in Delhi, demanding better policing and safety for women.
Six men have been arrested for the gang-rape and murder. Five of them are being tried at a special fast-track court in Delhi. The sixth, who is 17, is being tried by a juvenile court.