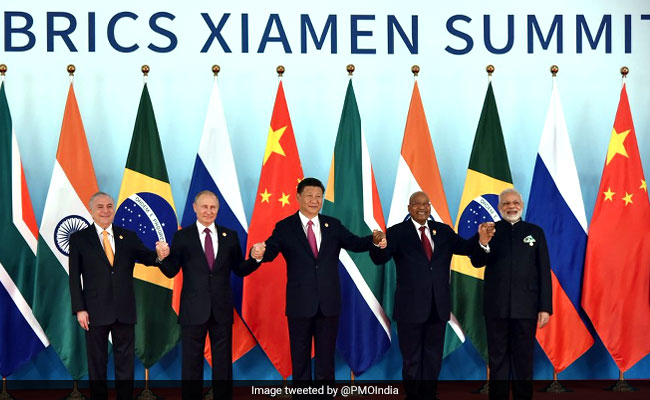 Xiamen, China:
The head of states of Brazil, Russia, India, China and South Africa at the BRICS Summit in China today strongly condemned and named in a declaration, for the first time, Pakistan-based terror groups like Lashkar-e-Taiba, Jaish-e-Mohammad and the Haqqani network. Prime Minister Narendra Modi, who is in the Chinese port city of Xiamen for the BRICS Summit 2017, said he looks forward to having "productive discussions and positive outcomes" with leaders of the grouping to support the agenda for a stronger partnership among the member countries. PM Modi holds bilateral meetings, starting with Russian President Vladimir Putin. PM Modi is also expected to meet leaders of countries like Egypt, invited by China as part of the BRICS outreach programme. Apart from Egypt, China has invited Kenya, Tajikistan, Mexico and Thailand as guest countries at the BRICS Summit. PM Modi's visit to China to attend the BRICS Summit comes days after India and China ended the 73-day-long Doklam standoff.
Here are the live updates from the BRICS Summit 2017:
Xiamen Declaration:
We call upon the internation community to establish a genuinely broad internation counter-terrorism coalition and support the UN's central coordinating role in this regard.
We, in this regard, express concern on the security situation in the region and violence caused by the Taliban, ISIL/DAISH, Al-Qaida and its affiliates including Eastern Turkistan Islamic Movement, Islamic Movement of Uzbekistan, the Haqqani network, Lashkar-e-Taiba, Jaish-e-Mohammad, TTP and Hizb ut-Tahrir.
We deplore all terrorist attacks worldwide, including attacks in BRICS countries, and condemn terrorism in all its forms and manifestations wherever committed and by whomsoever and stress that there can be no justification whatsoever for any act of terrorism.
We reaffirm that those responsible for committing, organizing, or supporting terrorist acts must be held accountable. Recalling the primary leading role and responsibility of states in preventing and countering terrorism, we stress the necessity to develop international cooperation, in accordance with the principles of international law, including that of sovereign equality of states and non-interference in their internal affairs.
We recognize the important contribution of BRICS countries to United Nations peacekeeping operations, and the importance of United Nations peacekeeping operations to international peace and security.
We reaffirm our support to the people of Afghanistan in their efforts to achieve "Afghan-led and Afghan-owned" peace and national reconciliation, to the ongoing international efforts, including the Moscow Format of consultations on Afghanistan and "Heart of Asia-Istanbul Process", as well as multimodal connectivity projects to promote peace and stability, to the fight against terrorism and drug-threat, and to the national reconstruction efforts by Afghanistan.