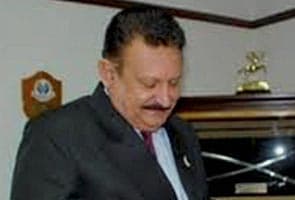 New Delhi:
Refuting the allegations that he offered a bribe to Army Chief General VK Singh for clearing "sub-standard" vehicles in 2010, Retired Lieutenant General Tejinder Singh today said the allegations are false and ill-founded.
"The allegation that I offered bribe on behalf of Tatra and Vetra Ltd is absolutely false and ill-founded," said the retired Lieutenant General while deposing before a Delhi court, supporting his complaint for initiating criminal defamation against Army Chief General V K Singh and four others.
"I was absolutely devastated with this sudden attack on me by the Army headquarters," he added.
The Retired Lieutenant General has been named in the complaint by the Army Chief to the Central Bureau of Investigation (CBI) on the alleged Rs 14 crore bribe offered to him to clear tranche of nearly 600 Tatra trucks. CBI sources said that General Singh has assured them of providing more material about the alleged bribe offer soon.
The Army Chief's revelation that he was offered a bribe six months after he took office in 2010 has led to renewed attention to how equipment is bought for the Army. The sale of 7000 trucks to the Army by a company named Vectra is being formally investigated by the CBI.
General Singh had claimed that a lobbyist, who had "just" retired, offered him a bribe for clearing "sub-standard" vehicles and he had informed the Defence Minister about it. The Ministry had then recommended a CBI probe into the allegation made by the Army chief.
The probe agency was waiting for a formal complaint from the Army chief regarding details of alleged bribe offer to initiate a formal probe into the matter referred to it by the Defence ministry.