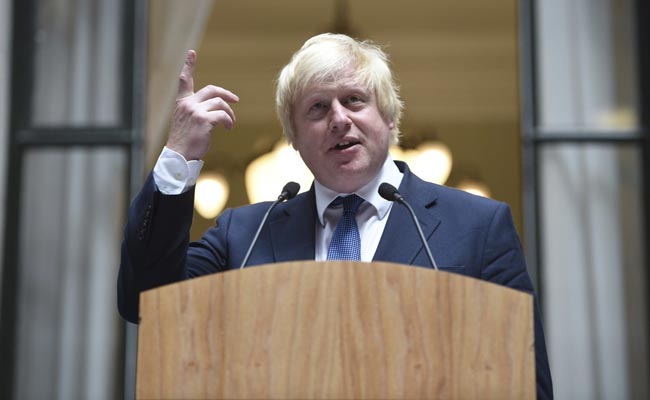 London:
Star Brexit campaigner and London's former Mayor Boris Johnson's appointment to one of the senior- most posts in the new UK Cabinet headed by Theresa May should come as good news for India and indeed the wider Commonwealth.
"We need to reshape Britain's global profile and identity as a great global player. (We will see) more Britain abroad and a greater global profile," Mr Johnson said, setting the tone in his first statement as secretary of state outside his new office in London on Thursday.
The star campaigner for Britain's exit from the European Union in the lead up to last month's referendum stressed that Brexit "does not mean in any sense leaving Europe. If anything I think our relations with Europe will be intensified".
Mr Johnson had been widely perceived as not being that close to the new Prime Minister, having backed her opponent Andrea Leadsom for the post.
But it seems Ms May has chosen to look beyond personal feelings to broader political appeal in appointing him.
Mr Johnson is well-known as an India-friendly politician in Britain, not least because of his wife Marina Wheeler's roots in Punjab.
Wheeler is the daughter of Charles Wheeler and Dip Singh, whom the veteran journalist had met and married in the 1960s during his first assignment as South Asia Correspondent based in Delhi.
Mr Johnson has often spoken with characteristic wit and humour about his visits to India for family weddings with his wife and enjoyed what he has dubbed as the "motorcycle step" as part of his repertoire of Bollywood dancing moves.
He had also led a high-profile business delegation to India back in 2012 when he was reportedly told off for trying to ride his motorcycle through the Gateway of India in Mumbai.
On the policy front, the 52-year-old had mooted the concept of a new work visa to help address the sharp decline in number of Indian students coming to study in the UK during his term as London mayor.
As part of proposals he had forwarded to then UK government back in November 2015, he had pushed for a new two- year Commonwealth work visa which would kick-start with India and then be extended to other Commonwealth nations if successful.
India is the third-largest international student market in London, after China and America. However, the number of Indian students studying at London's higher education institutions has more than halved over the last five years.
Mr Johnson's new senior position in the UK Cabinet could make it easier for him to push through some of these plans.
He has previously also spoken out for the need for more flights connecting London with India.
"We need better aviation capacity and more flights between London and India to ensure we are an open and welcoming city for Indians," he is on record as saying.
He has also repeatedly hailed the Tata Group's success in the UK. Given his track record so far, India has much to be optimistic about Mr Johnson being put in charge of a key role where he is likely to champion closer India-UK ties.