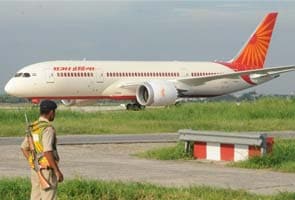 New Delhi:
Air India will resume flying its Boeing 787 Dreamliner passenger jets from tomorrow almost four months after the planes were grounded due to safety concerns.
Air India will start a Dreamliner domestic flight on Wednesday and will start international flights on May 22, Civil Aviation Minister Ajit Singh told reporters, adding that all six of its Dreamliners would be ready for flying by the end of the month.
Air India would also acquire eight more Dreamliners by December, he added. The state-run airline had ordered a total of 27 Boeing 787 Dreamliners.
More than 50 Dreamliners have been grounded worldwide since January following incidents of overheating in the batteries providing auxiliary power. Boeing has since worked to develop new battery housings to prevent a repeat of the incidents.
The Directorate General of Civil Aviation (DGCA), India's aviation regulator, had lifted the ban on 787 flights in India earlier this week.
Air India launched test flights of its six 787s, which have been fitted with new battery packs, last week. The planes were flown from Mumbai to Delhi after making an additional landing at Ahmedabad, as part of the test flights.
Test flights of the Boeing 787s are being conducted by eight airlines across the globe whose aircraft are being fitted with new battery packs approved by the US Federal Aviation Administration. Other airlines, which own these planes, are All Nippon Airways, Japan Airlines, Ethiopian Airlines, United Airlines, LOT Polish Airlines and Qatar Airways.