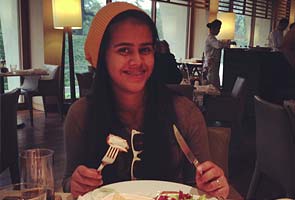 New Delhi:
Rtunjya Gujral, is a 14- year-old student from Pathways World School in Gurgaon. She describes herself as a "budding musician, artist and writer."
The women of Delhi once used to be independent and free. But since the fatal gang rape case in December, I see insecurity and fear in everyone. I know people who have since placed curfew hours for their daughters, and some have even appointed bodyguards for their security, even my own father.
The guard appointed by my father accompanies me everywhere. He comes with my mother to drop and pick me up from school, and even when I'm meeting my friends or just going for a walk.
But is this the way we want to live? I don't. Even though I want my independence back, I am scared to go out alone without one of my parents. This is, in my opinion, very sad, because so much fear affects everyone's lives in different ways. I, being a young and growing girl, need to go out and play, but with all this happening to young girls practically every day, I am scared to go out, and my parents are scared to send me. On numerous occasions, I have caught grown men staring at me, making me extremely uncomfortable, and I wouldn't know what to do about it, so I was left with no choice but to avert my eyes.
When I saw the news on December 17th after having a very nice dinner with my family, I was shocked out of my wits. I didn't know someone could do something that barbaric to anyone. Every day I came back from school and I turned my television on, in hopes of seeing those animals getting punished, all I saw were vain attempts from the public to get justice for the student, and violent attempts from the police to "control" the protests. I saw the politician making that horrible comment about the rape being the girl's fault, and it angered me to no limits. "How could someone be that heartless?" I asked my mother, she told me, "Yeh India hai, beta. Nobody cares here."
I found out through Facebook that she had passed on, and I immediately went online to read about it.
I had only just come out of that shock, when the news channel started saying things about "our children being unsafe." A five-year-old girl kidnapped and raped, accused on the run. When I heard what that man did to her, I started crying. I was disgusted, how could anyone do that to such a small child?
What made me feel even worse was the fact that history was repeating itself. I was watching the Delhi gang-rape protest all over again. I saw the debates all over again, and all this made me wonder if this would ever take us anywhere. I wondered if everyone would stay angry for another two weeks and then go back to their normal lives. I wondered if four months from now some other innocent girl would have her life ruined before it even started. I wondered if it was all really worth it. I still don't know the answer to my question, but I know this. She didn't deserve it, nor did anyone else.
Disclaimer: The opinions expressed within this blog are the personal opinions of the author. NDTV is not responsible for the accuracy, completeness, suitability, or validity of any information on this blog. All information is provided on an as-is basis. The information, facts or opinions appearing on the blog do not reflect the views of NDTV and NDTV does not assume any responsibility or liability for the same.