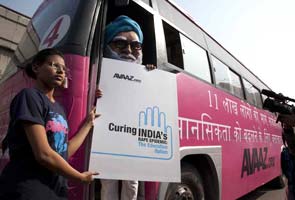 Justice JS Verma's report rightly calls for stricter laws to bring rapists to justice. But tougher enforcement alone will not cure India's appalling rape epidemic. To do that, this country needs a mindset revolution - which can only be achieved through a massive government-led education campaign to transform people's attitudes towards women and girls.
Rape is the fastest growing crime in India, up by 875% in the last four decades. Last month, a survey showed that 92% of men in Delhi knew someone who had harassed or sexually assaulted a woman. Little wonder, when a lawyer suggests that the young woman raped and tortured on a Delhi bus would not have been attacked if she were more virtuous, and when an education minister believes the solution to sexual crime is for girls to wear overcoats.
The good news is we know what can work to change people's attitudes. Huge education drives have slashed HIV infection rates in this country and across the world. Here in India, the Bell Bajao campaign dramatically increased awareness of domestic violence. India has shown it can conquer seemingly insurmountable problems - take polio, which was almost eradicated in two years. Now it's time to harness the outrage over what happened on that Delhi bus to cure the epidemic of violence against women.
Today, Avaaz released a report proposing a simple four-point plan that Prime Minister Manmohan Singh's government should introduce before the three month anniversary of the horrendous rape attack in Delhi. First, it has to commit serious money to a mass public education campaign: at least Rs 50 a year for every Indian citizen. Much of this cost could be covered via partnerships with private media.
Second, it must invest time: a full-scale media and outreach barrage should last at least four years, while education programmes in schools and other grassroots efforts should be permanent.
Third, PM Singh must establish a body with the best brains to oversee this project - drawing from advertising, Bollywood, cricket, government and non-profits. And finally, the government must establish targets for reducing sexual harassment and assault.
Only the government can lead something this ambitious. The people are behind it. In the past few weeks, thousands have been on the streets and over 1.1 million people have backed Avaaz's call for a public education campaign - a huge mandate for action.
There may never be a better moment to fix this problem, to make sure that something good finally comes from an appalling tragedy. This ambitious plan could be Prime Minister Singh's legacy for India - and for the world to follow.
You can read the full Avaaz report here:
'Curing India's Rape Epidemic: The Education Option'
Disclaimer:
The opinions expressed within this blog are the personal opinions of the author. NDTV is not responsible for the accuracy, completeness, suitability, or validity of any information on this blog. All information is provided on an as-is basis. The information, facts or opinions appearing on the blog do not reflect the views of NDTV and NDTV does not assume any responsibility or liability for the same.