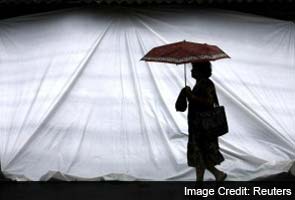 Women have become increasingly worried about their safety in New Delhi after the gang rape and torture of a young woman aboard a moving bus last December. Not for nothing do people call the city India's rape capital. Beyond the leers and the crass words that men often direct at women walking on the street, fresh fears have arisen over stalkers.
The Lok Sabha passed a bill to toughen penalties on rape and sexual assault on Tuesday, and among its penalties, it would make stalking punishable by jail time. But first-time offenders will be able to avoid being detained till investigation is complete, as the offence is bailable.
That, of course, disappointed many people. "1st time stalkers get bail, so they get out and harass, and maybe attack the woman they were stalking?"
journalist Padmaja Joshi wrote on Twitter
.
@Neilima wrote
, "1st time stalker getting bail will probably lead on a second attack. Only, it'll be a lot worse than just stalking her."
But what happens if someone falsely accuses someone of stalking? If the offence is non-bailable, police have the right to arrest or detain the accused stalker before they begin investigating the case, said Vijay Kumar, a lawyer who argues cases before the Supreme Court.
Karuna Nundy, another Supreme Court lawyer, had a different view. "I find concerns of 'misuse' come up most often when a law isn't deeply felt to be legitimate in the first place..."
In at least one case, India revisited a law designed to protect women over concerns that it could be misused. The Supreme Court in 2010 directed the government to re-examine a law against dowries, saying that some women used it to lodge false complaints accusing their husbands and relatives of cruel behaviour.
A government panel in October 2012 said India should tone down the law to prevent the immediate arrest of family members against whom police complaints are filed by their wives.
Men with no thought of stalking on their minds shouldn't worry, I would imagine. Or maybe they should? The definition of the crime in the bill in question says:
Any man who-
follows a woman and contacts, or attempts to contact such woman to foster personal interaction repeatedly despite a clear indication of disinterest by such woman; or monitors the use by a woman of the internet, email or any other form of electronic communication; or watches or spies on a woman in any manner, that results in a fear of violence or serious alarm or distress in the mind of such woman, or interferes with the mental peace of the woman, commits the offence of stalking.
That last clause caught my attention. I remember that, a few weeks after the gang rape, while going home after work, I was walking behind a woman who was going to the same apartment complex as mine. Though she was talking on the phone, she turned and stared at me four times. I quickly walked past her, thinking all the while, "Does she think I am stalking her? What if she called the police on me?"
Fifty-one per cent of women polled in a survey conducted by Hindustan Times in March 2011 said they have been stalked. This is clearly a problem, never mind the anecdotes you will hear if you ask enough women about whether it has happened to them.
The question now is whether allowing bail for first-time offenders is an unforgivable lapse or whether it's necessary to provide some relief to people who are falsely accused.
A provision of bail for first-time offenders might be better to have on hand from the beginning rather than something to be regretted later.
Kiran Bedi, former police officer and anti-corruption activist, agrees that this gives breathing space to those falsely implicated.
"I think they've followed the middle path," she said, explaining the provision is neither victim- nor accused-centric. "Bailable is striking the balance ... now the onus goes on individual prosecutors and individual judges."
(Follow Aditya on Twitter
@adityayk
)
(Any opinions expressed here are those of the author and not necessarily of Reuters)
© Thomson Reuters 2013