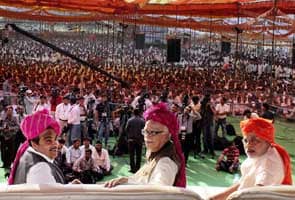 New Delhi:
Narendra Modi has to battle more than just belligerent allies before he can get anywhere near the leadership role that his many fans in the party want handed to him. With the next general elections now months away, the tussle for turf in the main Opposition party is getting intense.
Sources said party patriarch LK Advani has written to BJP president Rajnath Singh suggesting that his predecessor Nitin Gadkari be asked to head the party's election committee ahead of Assembly elections in five crucial states. The Rashtriya Swayamsevak Sangh or RSS, which is the BJP's ideological mentor, has indicated for months that it would like to see the Gujarat Chief Minister in that role.
Only months ago, LK Advani was chief among those instrumental in stalling an unprecedented second term for Mr Gadkari as party president. Then, he had vociferously argued that with Mr Gadkari being named in a corruption scandal, the BJP would shed serious equity if he continued to be party chief.
Now, Mr Advani has reportedly told Rajnath Singh that the party needs a cohesive effort to fight the state elections in the next few months and that Mr Gadkari is the man to do that.
The BJP has just lost its only state in the south, Karnataka, to the Congress. Even though Mr Modi had very limited participation in the campaign there, many have pointed out that his outing there failed to spin electoral magic for his party.
Rajnath Singh is reportedly yet to respond to Mr Advani's suggestion.
When Mr Modi was recently appointed to the BJP's panel of top leaders, the parliamentary board, and was made a part of the election committee, many saw it as a next step to his eventually being named presumptive Prime Minister by the party for the 2014 Lok Sabha elections.
But other BJP leaders have repeatedly emphasised that the race is open yet, with many top-notch aspirants. The 85-year-old Mr Advani, who served as Deputy PM in the Atal Bihari Vajpayee regime, is still considered a strong contender. Leader of Opposition in the Lok Sabha Sushma Swaraj has also been talked about.
Ms Swaraj's statement earlier this week that the candidate for Prime Minister in the next elections would be chosen after consultations with the BJP's allies in the National Democratic Alliance or NDA it leads, revealed the struggle within for power. Only last month the party president had said the final decision would be taken by the parliamentary board.
Mr Modi is not acceptable as the leader of the NDA to ally Janata Dal (United), which says that the 2002 communal riots in Gujarat under Mr Modi's watch cast a shadow on his secular credentials. Another ally, the Shiv Sena, has said it has no objection to Mr Modi, but would prefer Ms Swaraj. It was warned that the BJP will do well to consult its partners on the crucial decision.