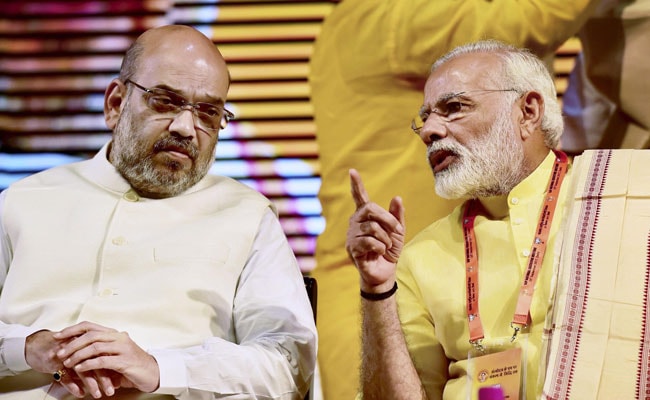 New Delhi:
When the Uttar Pradesh unit of the BJP met this weekend, there was one session which had a lot of outsiders turn up. Held in Meerut and attended by Chief Minister Yogi Adityanath, Home Minister Rajnath Singh among others, the social media session was the special draw for which BJP President Amit Shah turned up. Their message was clear - if social media was the X-factor in 2014 polls, the 2019 ones would make it ubiquitous. In fact, BJP insiders told NDTV that they planned to have a social media coordinator for every single booth in the election.
To give an idea of just how ambitious this plan is, consider this - each booth has approximately 2,000 voters which means that the BJP social media team across the country would run into approximately four lakh social media coordinators, if we go by the Election Commission count of 81.5 crore voters in India. Some of them will be existing BJP workers who are trained in social media while some could be volunteers. They would have a single tool to operate in and no war rooms or workstations - armed with just a smartphone. "The teams are already in place since 2017," said BJP's social media in-charge of Western UP, Harsh Chaturvedi. "We just need to expand so we have more teams," he added.
While it is still a few months away from the 2019 polls, already volunteers have started turning up at these meetings. When Amit Shah attended the social media meeting in Varanasi on July 6, insiders say 5,000 volunteers turned up. The numbers were good but the BJP is looking for many more as they need to put in place manpower for the 1.6 lakh booths just in Uttar Pradesh. When party president Amit Shah spoke to them, he is said to have told them that they need to go to more rural areas and spread the BJP message. After Varanasi and Meerut, the next social media summit for the party will be held in Noida or Ghaziabad next month.
If the page pramukh or a BJP worker to be in charge of each page list of voters was the Gujarat innovation, the booth level social media coordinator could be the 2019 trademark. "In 2014, everybody didn't know about social media and so we had special teams. But now everyone does, and so our priority is to spread the government message down to the last person," said Shivam Chhabra, of the BJP Yuva Morcha. He explained the modus operandi - the national or Delhi team would come up with a tweet or a video which they would send out to all states. The state units would then send to each district and the district would then send to each mandal or block and eventually to the booth worker. The booth worker would then send it to his WhatsApp group of voters in the area.
"We are going to interview beneficiaries of Ujjwala Scheme and Jan Dhan yojana and then send out their videos as well, so that voters get to know of all the government schemes," said Mr Chaturvedi. And it's not just Facebook and Twitter, the party's quite proud to announce that they have debuted on Instagram and Snapchat too.
The focus for all of this is also targeted to the new horizon, states which are not with the BJP. So Bengal, Odisha and Kerala get extra attention with workshops being mapped out for each.
"When we were in Bengal, we found more volunteers coming forward there," said Kapil Parmar, who heads the social media unit of the Yuva Morcha, adding, "They want to highlight what their state government is doing wrong."
When NDTV spoke to social media teams in other states like Gujarat, they all confirmed that the booth level coordinator would be the gamechanger this time.
"We'll train everyone in every district and if it isn't possible to go to each one, then I'll just videoconference with them," they said.
At the moment, they operate out of the brand new office at Deen Dayal Upadhyay Marg but they don't rule out getting a separate workspace, if required, before 2019.
So is the opposition ready? Congress's social media in charge in Gujarat Rohan Gupta who ran a buzzy campaign ahead of state elections appeared confident. "We will be worker centric too and we will definitely take them on," he said.
The poll dates are yet to be announced but the online battle has begun.